A day at the beach took a dark turn in the Danish town of Karrebæksminde for these three elephants.
The trio - who are owned by a traveling circus named Cirkus Arenas - had been enjoying a dip in the sea when their keeper ushered them out of the water.
But when he began striking one of the beasts with a cane, havoc ensued.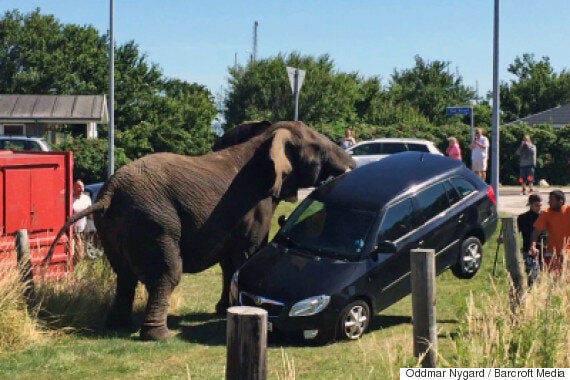 The male elephant picked up a car with it's tusks
Video footage recorded by 48-year-old Oddmar Nygard captured the scenes that followed as the distressed animal lashed out and began to destruct its surroundings.
Frustrated and hurt, it picked up a car with its tusks and launched it at passersby and the keeper who still had his cane in hand.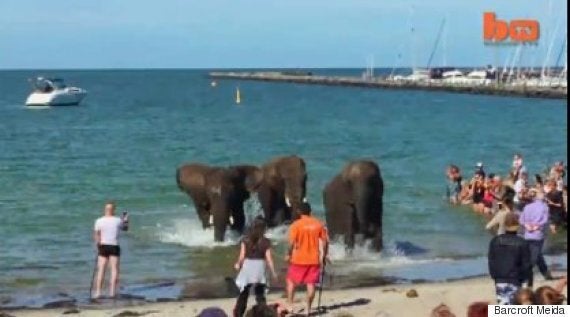 The elephants just wanted to swim in the ocean
The captive pachyderms named Lara, Jenny and Jungla were eventually caught and were made to perform in the circus that night.
After the video emerged Animal welfare groups in Denmark intensified their calls for a total ban on wild animals in the country's circuses.
However, the circus insists the animals are well cared for, and posted this image of them being hosed down after the show.
Elephants are highly intelligent animals and becoming aggressive is a sign of males entering a state knows as musth.
Translated from Hindi as 'madness', musth is a period of several weeks during which the elephant's testosterone levels peak to up to 60 times higher than usual.
Popular in the Community