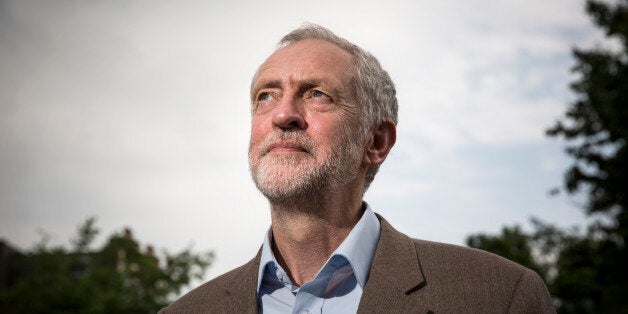 Jeremy Corbyn's bid to lead the Labour party won fresh momentum today after 230 councillors backed his campaign.
The veteran leftwinger told the Huffington Post UK that he was delighted by the showing of support from local politicians across the country.
A private poll this week claimed also to have the Islington North MP in first place, 15 points ahead of the Shadow Health Secretary.
Mr Corbyn said: "It's great to have so much support from Labour councillors.
"Labour councillors are Labour's backbone, representing communities across Britain and having to deal with the consequences of the government's deep cuts to local government funding. We need to listen more to local government and prepare to revitalise local government under Labour from 2020.
"This government have centralised power while devolving the pain inflicted by cuts to local councils. It is the most deprived communities in the country that are bearing the brunt of the government's economically flawed programme.
"We in the Labour movement must stand for strong, democratically accountable public services and support our councils in delivering them."
The fresh raft of endorsements comes ahead of the latest official hustings in the contest, which is due to take place today in Brighton.
Although Mr Corbyn initially struggled to get the required 35 MPs to get on the ballot, his campaign has since struck a chord on Facebook, where he has the biggest presence of any candidate, and Twitter.
Modernising Shadow Cabinet ministers and Kendall backers Chuka Umunna and Tristram Hunt this week warned of a return to the 1980s 'comfort' zone for Labour if Mr Corbyn was elected leader.
Meanwhile, Mr Burnham today announced that if elected Labour leader he would campaign for a legal pardon for all men convicted under historic homosexuality laws, without the need for families or individuals to apply.
"It would send a strong message to millions of LGBT individuals around the world, who still live in fear of persecution, and to the Governments and national leaders that refuse to recognise equal rights," he said.
The full list of Labour councillors backing Mr Corbyn includes:
Councillor Margery Abbott, Cambridge
Councillor Abdifatah Aden, Brent
Councillor Dipu Ahad, Newcastle
Councillor Jim Ainslie, Hartlepool
Councillor Seyi Akiwowo, Newham
Councillor Danny Aldington, Nuneaton and Bedworth
Councillor Suzanne Armstrong, Hull
Councillor Elizabeth Atkins, Preston
Councillor Jane Avis, Croydon
Councillor Neil Baldwin Redcar & Cleveland
Councillor Steve Battlemuch, Nottingham
Councillor Tony Bavington, Barbergh District
Councillor Lorraine Beavers, Lancashire
Councillor Alice Bennett, Liverpool
Councillor Sharon Blank, Chesterfield
Councillor Jordan Blyth, Middlesbrough
Councillor Robert Boswell, Preston
Councillor Andy Botham, Derbyshire
Councillor Mick Bowman, Newcastle
Councillor Lesley Brennan, Dundee
Councillor James Broach, Hatfield West
Councillor John‐Paul Bromley, Warwick
Councillor John Brooks, Lichfield
Councillor Pamela Brooks-Osborne, North Tyneside
Councillor Matthew Brown, Preston
Councillor Tim Brown, Ashfield
Councillor Amanda Brown, Ashfield
Councillor John Browne, Preston
Councillor Steve Brunt, Chesterfield
Councillor Janet Burgess, Islington
Councillor Cheryl Butler, Ashfield
Councillor Paul Carey, Glasgow
Councillor Yvonne Cartey, Tameside
Councillor Lauren Cassidy, Halton
Councillor Jilani Chowdhury, Islington
Councillor Peter Clarke, Hull
Councillor Bob Clay, Swansea
Councillor Uta Clay, Swansea
Councillor Alan Clinch, North Lanarkshire
Councillor Kaya Comer-Schwartz, Islington
Councillor Rosalind Copeland, Sunderland
Councillor Richard Cotton, Camden
Councillor Van Coulter, Oxford
Councillor Jim Creamer, Notts County Council
Councillor Simon Cronin, Worcester
Councillor Peter Curling, Hillingdon
Councillor Claire Darke, Wolverhampton
Councillor Shelly Darwin, Ipswich
Councillor Nick Davies, Swansea
Councillor Wynn Davies, Greenwich
Councillor Don Davis, Ashfield
Councillor Daniel De'Ath, Cardiff
Councillor Theresa Debono, Islington
Councillor Alex DeWinter Blaby District Council
Councillor David Dodds, West Lothian
Councillor Catherine Donovan, Gateshead
Councillor Ryland Doyle, Swansea
Councillor Sue Duffy, Bradford
Councillor Richard Dunbar, Bradford
Councillor Alan Dutton, Stoke on Trent
Councillor Dawn Elliot, Broxtowe
Councillor Geoffrey Ellis, Lincolnshire
Councillor Sinead Engel, Bradford
Councillor Aysegul Erdogan, Islington
Councillor David Evans, Flintshire
Councillor Tom Evans, Blackburn
Councillor David Fagan, Airdrie South
Councillor Anis Faruki, Preston
Councillor John Ferguson, Salford
Councillor Pat Ferguson, Nottingham
Councillor Kat Fletcher, Islington
Councillor Darren Foley, Channock Chase
Councillor Dot Foster, Calderdale
Councillor Tina Funnell, York
Councillor Drew Gale, Preston
Councillor Troy Gallagher, Islington
Councillor Osh Gantly, Islington
Councillor Emma Gillan, Glasgow
Councillor Daniel Gillard, Manchester
Councillor Paul Gleeson, Boston
Councillor Brian Gordon, Dundee
Councillor Richard Greening, Islington
Councillor Alice Grice, Notts County Council
Councillor Joe Hale, Swansea
Councillor Mouna Hamitouche, Islington
Councillor Carl Handley, Lewisham
Councillor Andy Hannan, Devon
Councillor Kate Hannan, Exeter
Councillor Tracy Harvey, Middlesbrough
Councillor Gary Heather, Islington
Councillor Jack Hemingway, Wakefield
Councillor Juliana Heron, Sunderland
Councillor Julie Heselwood, Leeds
Councillor Maja Hilton, Lewisham
Councillor Andrew Hinchliff, Llanfairfechan
Councillor Ruth Hirschfield, Liverpool
Councillor John Hodges, East Sussex
Councillor Kate Hooker, Ashford
Councillor Rachel Hopkins, Luton
Councillor Harry Howard, Halton
Councillor James Hull, Preston
Councillor Emine Ibrahim, Haringey
Councillor John Illingworth, Leeds
Councillor Nicky Jerrome, Wokingham
Councillor Karen Jewitt, Croydon
Councillor Gary Johnston, Caerphilly
Councillor Iris Johnston, Thanet
Councillor Bert Jones, Redbridge
Councillor Jean-Roger Kaseki, Islington
Councillor Edward Kelly, High Peak
Councillor Nigel Knowles, Wyre Forest
Councillor Joyce Korczak-Fields, Hull
Councillor Mike Langley, Bristol
Councillor Trisha Lawton, Hartlepool
Councillor Sue Lent, Cardiff
Councillor Kate Lewis, Salford
Councillor James Leyshon, Lancaster
Councillor Michael Lilley, Colchester
Councillor Mary Lloyd, Southampton
Councillor Janet Looker, York
Councillor Steve Lydon, Gloucestershire
Councillor Keith Martin, South Ribble
Councillor Craig Martin, Weymouth & Portland
Councillor David Mayer, Newport
Councillor John McGhee, Northamptonshire
Councillor Paul McGlinchey, West Dunbartonshire
Councillor Annie McMahon, Rossendale
Councillor Pat Merrick, Chesire West & Chester
Councillor Allie Miles, Calderdale
Councillor Tom Miller, Brent
Councillor Roma Mills, St Albans
Councillor Lauren Mitchell, Ashfield
Councillor John Montgomerie, North Ayrshire
Councillor Angela Moohan, West Lothian
Councillor John Mooney, West Dunbartonshire
Councillor Keith Moore, East Riding
Councillor Lachlan Morrison, Ashfield
Councillor Keir Morrison, Ashfield
Councillor Graham Munn, Tunbridge Wells
Councillor Gordon Munro, Edinburgh
Councillor Joe Murphy, Salford
Councillor Chris Murphy, Stockport
Councillor Alan Napier, Durham
Councillor Tony Norbury, Wirral
Councillor Rachael O'Byrne, Liverpool
Councillor Una O'Halloran, Islington
Councillor Mick O'Sullivan, Islington
Councillor Stef Parkins, Warwick
Councillor John Paschoud, Lewisham
Councillor Keith Patience, Waveney
Councillor Sheila Peacock, Haringey
Councillor Ashley Pearce, Reading
Councillor Sue Pearson, Newcastle
Councillor Shaun Pender, Stoke on Trent
Councillor Rupert Perry, Islington
Councillor Gareth Phillips, Bridgend
Councillor Bob Piper, Sandwell
Councillor Andy Platt, Stoke on Trent
Councillor David Poyser, Islington
Councillor Susan Press, Calderdale
Councillor Richard Price, Maltby
Councillor Rodney Price, Selby District
Councillor Kevin Price, Cambridge
Councillor Mike Pringle, Nottinghamshire County Council
Councillor Alec Proffitt, Barrow in Furness
Councillor Shabana Qadir, Waltham Forest
Councillor Frank Radcliffe, North Hertfordshire
Councillor Habibur Rahman, Newcastle
Councillor Tony Randerson, North Yorkshire
Councillor Peter Rankin, Preston
Councillor Joe Rayment, Bath & North East Somerset
Councillor Kelly Ready, Wigan
Councillor Louise Reecejones, Wirral
Councillor Carl Richardson, Hartlepool
Councillor Kevin Ritchie, Leeds
Councillor Brian Roberts, Cheshire East
Councillor Roger Robinson, Camden
Councillor Christopher Robinson, Rotherham
Councillor Chris Robinson, Stoke on Trent
Councillor Andrew Roddison, Rotherham
Councillor Peter Rooney, Cheshire West and Chester
Councillor Ruth Rosenau, Stoke on Trent
Councillor Olivia Rowley, Wakefield
Councillor Dave Rowson, Manchester
Councillor Margot Russell, Midlothian
Councillor Lorna Russell, Camden
Councillor Naomi Rylatt, Bristol
Councillor Michelline Safi Ngongo, Islington
Councillor Rosmary Sales, Hackney
Councillor Gary Sanders, Blaby
Councillor Peter Sarris, Cambridge
Councillor Cathy Scott, Kirkllees
Councillor Kenny Selbie, Kirkcaldy Central
Councillor Nabil Shabbir, Peterborough
Councillor Asima Shaikh, Islington
Councillor Dave Shaw, Doncaster
Councillor Bill Shields, North Lanarkshire
Councillor Stephen Simkins, Wolverhampton
Councillor Chris Simmons, Hartlepool
Councillor Brian Smedley, Sedgemoor
Councillor Aidan Smith, Greenwich
Councillor Chris Spence, Silverdale Parish Council
Councillor Sally Spicer, Southampton
Councillor Andrew Spowart, Airdrie North
Councillor Chris Spriggs, Wirral
Councillor David Stockdale, Newcastle
Councillor Jane Streather, Newcastle
Councillor Neil Swannick, Manchester
Councillor Samuel Tarry, Barking & Dagenham
Councillor Sylvia Tempest, Hartlepool
Councillor Stephen Thomas, Hartlepool
Councillor Ross Thomas, Bridgend
Councillor Kieran Thorpe, Welwyn Hatfield
Councillor Michael Titherington, South Ribble
Councillor Nigel Todd, Newcastle
Councillor Frank Toner, West Lothian
Councillor Gregory Udeh, Merton
Councillor Ian Watkinson, South Ribble
Councillor Cathy Watson, Welwyn Hatfield
Councillor Gillian Watson, Cheshire West & Chester
Councillor Claudia Webbe, Islington
Councillor Debbie Wheeldon, Stoke on Trent
Councillor Michael Wheller, Weymouth & Portland
Councillor John Robert White, Barking & Dagenham
Councillor Adam White, Tameside
Councillor John Wilkinson, Nottinghamshire County Council
Councillor Darren Williams, Cardiff
Councillor Janette Williamson, Wirral
Councillor Paul Woodward, Reading
Councillor Norma Wright, Sunderland
Councillor Bill Wright, Blaby
Councillor Jonathan Wynne Evans, Cardiff
Councillor Dave Young, Calderdale