We really can't imagine anyone but Sir Patrick Stewart playing Captain Jean-Luc Picard in 'Star Trek: The Next Generation', but if his friend Sir Ian McKellen had his way he would never have steered the Starship Enterprise.
SEE MORE:
Sir Ian has admitted he advised his friend, and 'X-Men' co-star, against taking the part on the TV series and subsequent movies, despite it becoming one of his most well-known roles.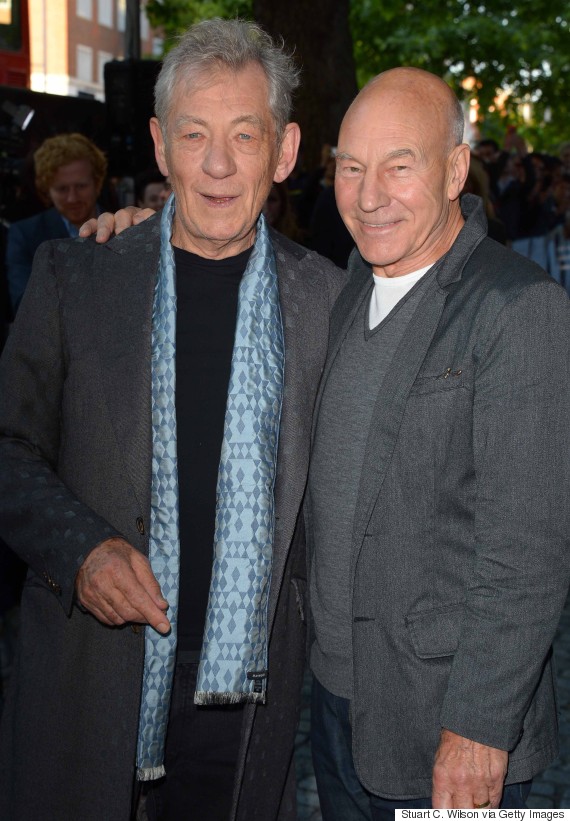 Sir Ian and Sir Patrick
Sir Ian tells Uproxx.com, "I've known Patrick since the 1970s. I was the guy who, when he told me he'd been offered this series called Star Trek, advised him to think hard about it and probably not do it."
Sir Ian went on to justify his advice, explaining that he thought it would limit his friend and fellow actor from doing anything else.
"Well, that's seven years of your life," he explained. "You're stuck in Hollywood and you can't do a play. And that was a disadvantage.
"It was one of the cons, but there were too many pros. I'm glad he didn't take my advice."
As are we.
Meanwhile, both Ian and Patrick have been feeling the love from none other than Taylor Swift after the pair both gave their own interpretations of two of her hits.
Taylor took to Twitter to thank the actors after watching their own unique renditions of 'Blank Space' and 'Bad Blood'.
"Thanks for reciting my lyrics, @IanMcKellen and @SirPatStew! You've made my day. You two are ULTIMATE Squad Goals," she tweeted.
Unable to contain his excitement, Patrick went all fangirl on Taylor, tweeting her back: "OMG I DIE!!! (no really, I might. I'm old.)"
OMG I DIE!!! (no really, I might. I'm old.) https://t.co/q4u7FIcMYr

— Patrick Stewart (@SirPatStew) July 17, 2015
Amazing.
LIKE US ON FACEBOOK | FOLLOW US ON TWITTER