Four people are still missing after huge explosions and a fire destroyed a mill in the village of Bosley, Cheshire.
Three men and a woman who are still unaccounted for were believed to have been in the building and near the seat of the explosion that ripped through the mill at around 9.10am on Friday.
At around 5am an initial assessment was done of the site, with around 20 firefighters forming a specialist urban search and rescue team, preparing to start to enter parts of the site using a sniffer dog.
According to Sky News, specialists who helped in Nepal following the devastating earthquake there in April have helped search and rescue operations.
Sixty other firefighters along with ambulance crews and police are on hand with water still being used to douse and cool silos and thermal image cameras assessing temperatures to look for "hot spots".
Macclesfield MP David Rutley said that there was "still hope" for the four missing workers.
ITV quoted him as saying: "There is still hope. Speaking to the chief fire officer obviously they are still treating this as a search and rescue, so we hope and we pray. But given the scale of the explosion, clearly the probabilities are not the best but we still hope.
"And all I can say is having been down to the scene of the incident the fire and rescue operations are doing everything they can to find these people and dowse down the fire so they can get the search and rescue teams in as soon as possible.
"There is an amazing amount of work gone in to try and find these people, so I can't think of anything more they could have done, so let's just hope now that they can get that job done quickly."
Mr Hancock said the four storey building was completely destroyed in the incident, starting with an explosion, followed by a much larger explosion, described as witnesses as "an earthquake" followed by fire engulfing the site as massive plumes of flames shot 70 metres high.
He said: "There's been an explosion. The building has burst from the inside and because of the subsequent fire it has collapsed in on itself which has created a number of voids.
"So we remain hopeful but remain realistic that it is looking more like a recovery operation than a rescue operation."
Mr Hancock said the next few hours will be a "slow, methodical process" of creating safe zones on the site for firefighters to search for the missing workers.
Cheshire Police said they were working closely with the families of the four missing but were not releasing names. All four are believed to be local, with one from the village of Bosley.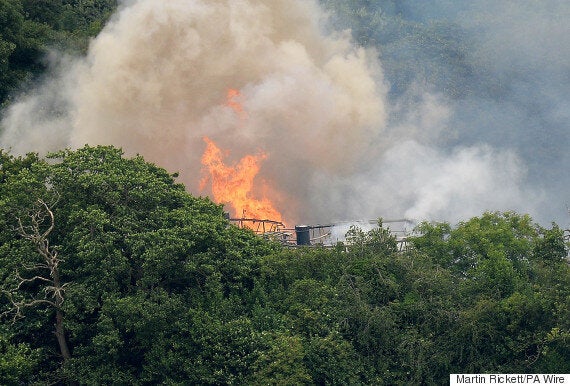 Flames can be seen following the explosion
A total of 35 casualties were assessed at the scene, with four people taken to hospital.
A 29-year-old woman was airlifted to Queen Elizabeth Hospital, Birmingham, after she suffered serious burns and blast injuries to her head, face, arms and chest.
Another two people were taken to a specialist trauma unit at Royal Stoke University Hospital, while a fourth male casualty was taken to Whiston Hospital, Merseyside.
The cause of the blaze is under investigation.