Liz Kendall, the Labour leadership candidate, has accused The Mail on Sunday of sexism after it tried to guess her weight and compared her figure to that of the Duchess of Cambridge's in an article.
A Mail on Sunday article about Kendall called her a "slinky brunette" and commented that she "maintains her lithe figure by jogging 20 miles a week".
The writer, Simon Walters, the Political Editor of The Mail on Sunday, wrote that Kendall was wearing clothes made by Reiss and shoes by L.K.Bennett, brands favoured by the Duchess of Cambridge. He added: "Slinky brunette Liz, or Elizabeth Louise, to give her full Royal-sounding Christian names, looks as good in them as slinky brunette Kate.
"In fact she looks the same weight as the Duchess – about 8st – though when I ask she slaps me down with a raucous 'f*** off!', adding quickly: 'Don't print that.'"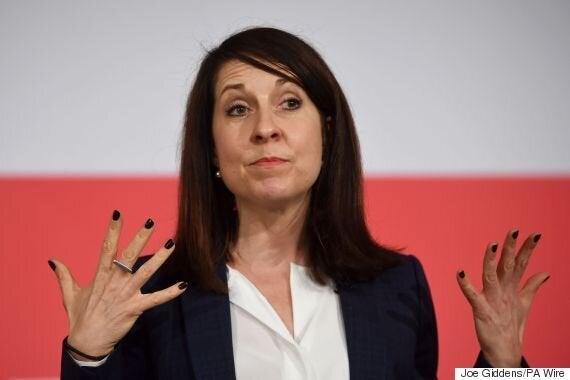 Kendal said it was "unbelievable" that the article asked questions of her weight
"Can you imagine the Mail on Sunday asking the weight of the Prime Minister, George Osborne or any other leading politician?
"I cannot wait for a world when women are judged the same as men and not by those kinds of questions."
Kendall has been targetted by rivals for being the only unmarried candidate for the Labour leadership, while Yvette Cooper's camp has been accused of playing the "mum" card by saying they back her specifically because she is a mother, when Kendall is not.
While many readers used the comments space below The Mail on Sunday article to debate the Labour leadership contest, several appeared to agree with Kendall's criticism of the article.
One, with the username Guy Clapperton, wrote: "Whether one agrees with her politics or not, Kendall is among those who might just be Prime Minister in half a decade's time, thus deciding on things like whether we go to war, the shape of our kids' education... and you're asking about her weight and the price of her shoes. You don't even have to be a feminist to work out that there could, just, be more important stuff at stake."
Another, simply calling themselves 'Uninterested', said: "Of what interest is it to the electorate how much she weighs, surely her political views are of more interest than where she shops and what she eats. Think the interviewer ran out of sensible questions to ask."