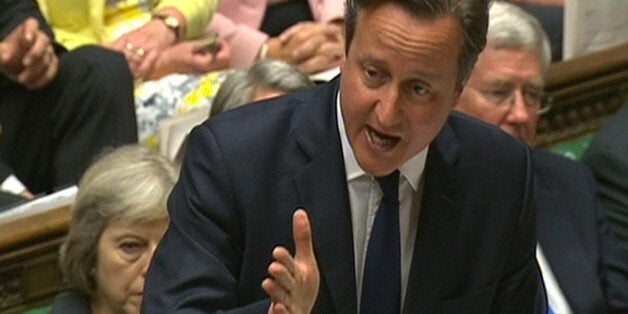 David Cameron has slammed the National Union of Students for its links with Cage - the advocacy group which has previously been accused of being Jihadi John apologists.
Cameron challenged universities to crack down on extremist speakers appearing on campus, saying officials turned a blind eye over a "mixture of misguided liberalism and cultural sensitivity".
He said: "Confronting non-violent extremism isn't just about changing laws, it's about all of us, changing our approach. Take, for example, some of our universities. Of course universities are bastions of free speech and incubators of new and challenging ideas. But sometimes they fail to see the creeping extremism on their campuses.
"When David Irving goes to a university to deny the Holocaust – university leaders rightly come out and condemn him. They don't deny his right to speak but they do challenge what he says. But when an Islamist extremist goes there to promote their poisonous ideology, too often university leaders look the other way through a mixture of misguided liberalism and cultural sensitivity. As I said, this is not about clamping down on free speech. It's just about applying our shared values uniformly.
"And while I am it, I want to say something to the National Union of Students. When you choose to ally yourselves with an organisation like CAGE, which called Jihadi John a 'beautiful young man' and told people to 'support the jihad' in Iraq and Afghanistan it really does, in my opinion, shame your organisation and your noble history of campaigning for justice."
In a 2006 video, Qureshi calls for "support the jihad of our brothers and sisters" in the Middle East at a protest outside the US Embassy.
Others have joined Cameron in condemning the students' union, which is the largest in Europe, for its alignment with the group.
The NUS was accused of working with Cage in March, when the union voted to oppose the government's counter-terrorism bill.
According to reports, the motion passed by the NUS pledged to "publicly oppose the Counter Terrorism and Security Act, for the NUS President to issue a public statement condemning the PREVENT Strategy and the Government's Counter-Terrorism and Security Act, and alongside civil liberties groups including Cage, lobby the government to repeal it immediately".
A statement released by Cage, praised the decision of the NUS to oppose the government's strategy: "Cage welcomes this position as it will avoid the alienation of Muslim communities and sends a powerful message to students that all groups need to work together in countering the narrative that Muslims are a threat to society instead of equal partners committed to creating a more equal, just and fair society for all."
At the time, president Toni Pearce sought to distance herself from Cage, saying: "The motion notes that other organisations will also be doing this but, to clarify, I have absolutely no intention of developing a working relationship - formal or otherwise - with Cage."
Following Cameron's comments, a spokesperson for the NUS said: "In response to the misleading comments made by the Prime Minister this afternoon, NUS wants to make it very clear that, as previously and categorically stated, we will not work CAGE in any capacity."