Motorists heading up the M1 the wrong way have been branded "ridiculous" by police after CCTV caught drivers going to extraordinary lengths to avoid tailbacks.
Footage of the incident reveals dozens of cars and a large commercial bus turning against oncoming traffic to avoid a traffic jam after a collision ahead.
The coach driver, seen performing the illegal U-Turn at Junction 18 in Northamptonshire, has since resigned.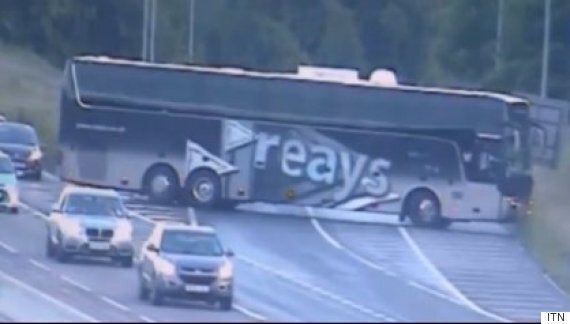 The coach turned in the road to illegally U-turn
PC Dave Lee, from the tactical roads policing unit, said: "These people were behaving ridiculously,
"People joining the motorway aren't expecting other vehicles to be coming towards them.
"These drivers were not only putting their own lives at risk, they were risking the lives of everyone heading down that slip road."
One by one each vehicle is seen turning down the slip road, in what can only be described as 'copycat' behaviour.
The first car seen in the video has a near miss with the glaringly close oncoming traffic.
Officers are currently investigating the motorists involved and will take further action against the reckless drivers.
Users of social media were not impressed and these people voiced their disgruntled opinions on Twitter:
Related