Labour splits over Tory welfare plans deepened today as both Yvette Cooper and Andy Burnham vowed to sort out the 'confusion' of the party's stance on benefits.
As rebel MPs remained defiant and George Osborne accused the party of going 'left, left, left', Ms Cooper told The Huffington Post UK that Labour was feeling "bruised and confused".
In an exclusive blogpost, the Shadow Home Secretary attacked the "muddle" of Harriet Harman's order to MPs to abstain on the Welfare Reform and Work Bill.
Ms Cooper vowed to oppose the legislation when it returns to the Commons after the summer, declaring that cuts to child tax credits and other benefits needed a 'stronger Labour alternative'.
"Labour is not in a good place today – people are feeling bruised and confused about what we are in favour of and what we are against. We need to sort it out - pull our party together and start challenging the Tories instead," she said.
Mr Burnham also promised to vote against the Tory bill if he became leader in September and adding that he agreed to abstain in a bid to prevent splitting the party further.
Earlier, the Chancellor seized on the Opposition's woes after nearly 50 MPs defied Harriet Harman to vote against the Welfare Reform and Work Bill.
Mr Osborne pounced as one veteran backbencher warned that Labour risked "heading back to the '80s" and David Blunkett said it was still suffering 'emotional trauma' from its election defeat.
The left and right of the party blamed each other for the disunity after 48 MPs defied orders from Ms Harman to abstain on the plans to slash tax credits, impose a £20,000-a-year benefit cap and restrict some welfare to families with two children.
Jeremy Corbyn was the only one of the Labour leadership contenders to vote against the Government, but more than half of the party's newly elected MPs joined the rebellion.
In her blog, Ms Smith said: "This is the social welfare safety net. It is not lavish. But in the sixth richest country on earth, surely we have enough to ensure that no child goes to school hungry because the cupboard is bare, and that everyone has a roof over their head."" target="_hplink">her blog, Ms Smith said: "This is the social welfare safety net. It is not lavish. But in the sixth richest country on earth, surely we have enough to ensure that no child goes to school hungry because the cupboard is bare, and that everyone has a roof over their head."
Mr Burnham defended his decision not to rebel on the legislation, claiming that he was bound by collective responsibility as a member of the Shadow Cabinet, but vowed to oppose it outright if he wins the leadership on September 12.
But Mr Osborne was merciless today as he exploited a tweet from Labour veteran Barry Sheerman highlighting his fear that the party was lurching back to the days of Michael Foot.
Speaking in Treasury Question time in the Commons, the Chancellor said the party's opposition to a further shift from student grants to loans proved how far it had come from the Blairite days of the 1990s.
"The Labour party is going back to the 1980s' - his own words. Unfortunately the sensible voices of the old intakes are being drowned out by the new intake.
"They have a new intake of old Labour MPs dragging them back to the 1980s and we know the direction they're heading in – left, left, left - away from the centre ground of British politics," he added.
The line was a deliberate reference to Michael Heseltine's famous conference speeches in which he claimed Labour was like a one-legged army limping from the battlefield.
Michael Heseltine's 1976 'Left, Left, Left' conference speech
Hezza's 1995 'Right, Right, Right' reboot of the same speech
For good measure, Mr Osborne then told Dennis Skinner: "'He has a Labour party he's very happy with... So do I."
In his interview, Mr Burnham said he had made clear his unhappiness with the bill and said he'd managed to persuade Ms Harman to table an amendment objecting to the worst features of the plans.
'This is a party crying out for leadership. That is what I have shown in recent days," he told Radio 4's World At One programme.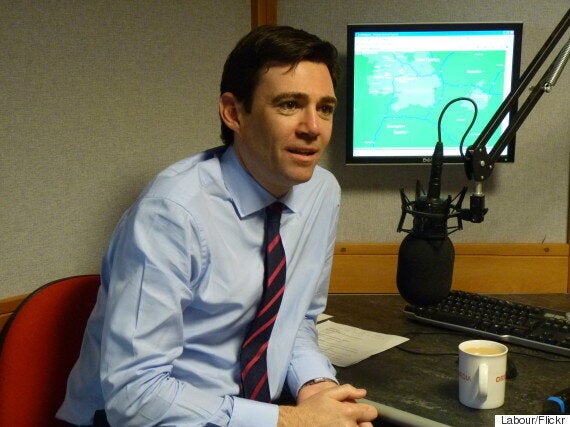 Referring to the decision to abstain, he added: "I still do not believe that was a strong enough position".
"But once you've argued your corner, I don't think it's then right to press on, having secured a compromise, to then split the party… I wasn't prepared to split the party."
"'These are the difficult decisions that we have to take in Westminster that sometimes may leave people a bit confused. I understand that."
However Mr Burnham faced 'flip-flop Andy' jibes from his Labour critics who felt he had undermined Ms Harman without following through with a vote against the bill.
One MP told The Huffington Post UK that the Shadow Health Secretary's 'Westminster Bubble' mantra had "burst". "Just like his newly invented persona as the firebrand of the Left".
But Labour faced fresh criticism from the SNP after it signalled it would also abstain on the Finance Bill for the Budget. Shadow minister Shabana Mahmood said abstaining "does not mean that we will not press matters to a vote at a later stage".
The SNP's deputy leader Stewart Hosie said: "Their official line was to not oppose a welfare plan which I don't think a single Labour voter would have supported. We're seeing the same chaos emerging today when they don't even have a reasoned amendment against a Finance Bill."
And even the Liberal Democrats got in on the ridicule.
But former Home Secretary Blunkett said that the rebellion - which failed to stop the welfare legislation passing its latest Commons hurdle - was a sign of something deeper.
"I think the Labour party is understandably in emotional trauma. It's bound to be after the loss in May and the bewilderment about where we go from here," he told BBC Radio 4's Today programme.
Mr Blunkett added that while he disliked many of George Osborne's cuts, the party had to develop a narrative that appealed to those who felt "the best form of welfare is work and the Lord helps those who help themselves".
Acting Shadow Work and Pensions Secretary Stephen Timms declared that the rebels - half of whom came from Labour MPs elected in 2015 - should stop 'undermining' the party leadership.
"I hope as we go into the summer recess they will conclude that they really want to be supporting our party's efforts to replace the current government rather than undermining them," he told BBC Radio London.
Mr Sheerman, a former chairman of the Education Select Committee, tweeted his unease early today.
But Diane Abbott said that Ms Harman had miscalculated the depth of feeling in the Labour party over the Tory welfare plans, which the Government's own study claimed could see 300,000 children worse off.
"Outside of Westminster I think Labour supporters are pretty united. This is a bad bill and we have to oppose it. We'll have a new leader in September and I believe that new leader will find a position around which we can all unite."
Liz Kendall has repeatedly backed Ms Harman's stance that Labour cannot be seen to indulge in 'blanket' opposition to ever Tory welfare reform.