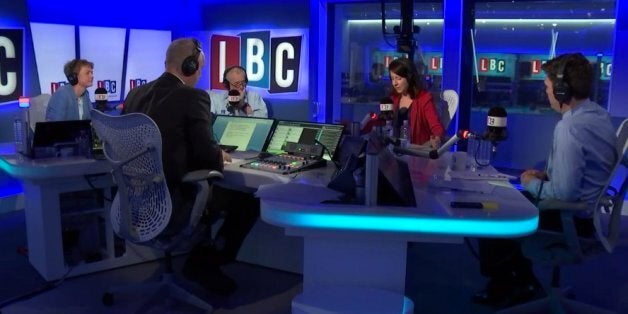 A wide-ranging Labour leadership hustings has revealed Jeremy Corbyn to be the only candidate not to have taken drugs, as the live radio event was gatecrashed by Nigel Farage.
Underlining how recreational drug use is no longer the political taboo it once was in Britain, Liz Kendall freely admitted she "had a few smokes when I was in college", and Andy Burnham and Yvette Cooper conceded they had imbibed marijuana at university - though had long ago made that public when serving in Labour governments.
But when asked at at the LBC Radio hustings if he had ever dabbled, Mr Corbyn, the unexpected front-runner and left-wing standard bearer in the fight said: "Really boring, no never."
The hustings, hosted by Iain Dale, was probably the most eclectic of scores of debates that have taken place to date, underscored by Mr Burnham revealing that as a one-time trade magazine journalist he wrote for Passenger Rail Management - a fact he had kept under wraps, noting it could be the guest publication if he appeared on Have I Got News For You.
To emphasis the stark differences between the foursome, Ms Kendall, widely viewed as the centre-left candidate, said she would refuse to serve in a "Corbyn cabinet" - labelling him "disastrous".
But while Ms Cooper said "probably not", Mr Burnham was more relaxed about the prospect - insisting he would be happy to serve under anyone as he is "Labour through and through".
Ms Kendall said under Mr Corbyn Labour could be out of power for 15 years, adding: "I so fundamentally disagree with Jeremy's approach and I think it would be disastrous for the party. It would be disastrous for the country.
"We will be out of power for a generation. I don't want to be a party of protest."
Ukip leader Nigel Farage also attempted to hi-jack the debate - introducing himself as a caller named "Nigel from Kent" to ask whether any of them would vote "No" to staying in the EU the referendum to be held before 2017.
After Mr Burnham said he thought it was the "man from Gogglebox" on the line, only Mr Corbyn, MP for Islington North, hinted that he could back a "Brexit".
He suggested that "if Europe becomes a totally brutal organisation which treats member states in the way it has treated Greece" then he could back the "out" campaign.
Mr Corbyn, coming off the back of a shock YouGov poll suggesting he had a 17 point lead over Mr Burnham, was hailed by the first caller as a "knight in shining armour".
But he appeared to blot his copy book when all the candidates were asked what music they would play at their victory rally.
He said: "I would play Imagine by John Lennon. I think it's a wonderful piece of music and a wonderful piece of poetry."
Some on Twitter were unimpressed by the syrupy choice from the late Beatles man's songbook.
For the record, and Andy Burnham opted for Take Over the World by the Courteeners, Liz Kendall went for Get Up Stand Up by Public Enemy and Yvette Cooper plumped for The Winner Takes it All by ABBA, and suggested the four could pass themselves off as an ABBA tribute band.
Popular in the Community