A newly appointed NHS consultant has written an open letter to Health Secretary Jeremy Hunt claiming he is paid less than minimum wage for on-call duties.
Karan Kapoor posted the letter alongside his payslips on Facebook and it has now received hundreds of comments of support and thousands of shares on the social network.
He wrote in the letter: "My on calls per month add approximately 120 hours of work in addition to my normal working week. This is made up of being on call one day per week and one weekend in 5 - 5pm on Friday to 8am on Monday.
"Simple maths says that works out as £2.61 per hour - significantly less than the minimum wage let alone the living wage."
In response to Dr Kapoor's letter, one Facebook user wrote: "Shocking. Regardless..Thank you for not opting out and looking after our health."
Another said: "Well written, to the point and more importantly, unlike the Health Secretary, honest."
Mr Hunt has received criticism from health workers across the UK this week after he claimed the NHS was not currently a seven-day, twenty-four hour service.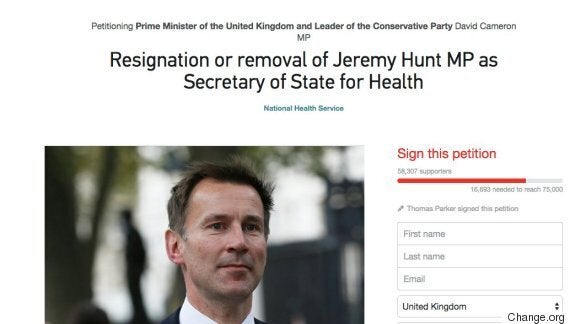 A petition calling for the removal or resignation of Jeremy Hunt has been signed by over 98,000 people
Dr Dan Furmedge created it on Sunday, and has since received the support of close to 100,000 people.
At the same time a further petition, this time held on Parliament's own website has gained enough signatures to be considered for debate.
Dr Ash Sadighi's call for politicians to 'debate a vote of no confidence' in Mr Hunt now has 150,000 supporters.
Dr Janis Burns wrote to Mr Cameron: "I would like you to look me, and every other doctor in the NHS, in the eye and tell us that you genuinely believe that we are being adequately paid for all the responsibility that rests on our shoulders."
Related