Holidaymakers around Britain are in shock after thousands got stuck in traffic jams and airport queues they were in at exactly the same time as last year, and the year before that, and the year before that.
Disbelief and confusion was even more widespread when raindrops were felt in the middle of summer and forecasters warned there was more to come.
Brits are outraged as weather forecasters predict that a *few drops of rain could possibly* fall during the British summertime, adding another dimension to the the unexpected busiest day of travel.
While others are taking it in their stride:
Heathrow is expecting 129,647 passengers to depart today as the school holidays begin. A further 500,000 passengers are expected to take off from the airport this weekend.
The roads are also expected to take their toll as motorists leave work at exactly the same time in a bid to beat the evening rush.
Travel association Abta estimates that 2.1 million holidaymakers will head overseas, with the wet weather likely to tempt more people to make a last-minute booking.
A spokesman for the company said: "With rain predicted for many parts of the UK late bookers may also be tempted to head off overseas with temperatures around the Mediterranean set to hit the mid to high 30s over the next few days with guaranteed sunshine.
"The strong pound to euro exchange rate also means that holidaymakers' money will go much further in eurozone resorts".
Shunning the usual, predictable holiday destinations, Brits have decided to venture to more exotic lands such as Spain, the Canaries and south Europe.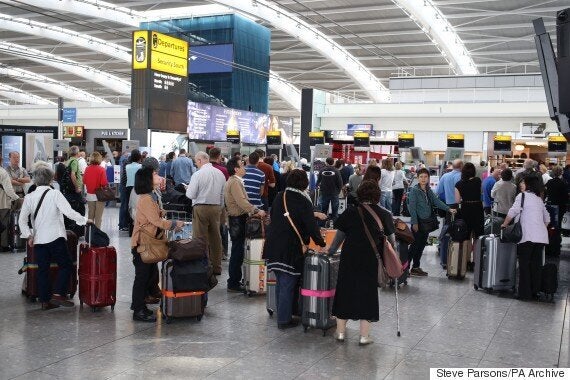 Heathrow is expected to see nearly 130,000 passengers depart today
In a turn of events, Florida remains the number one long-haul choice for families, according to Abta.
Heathrow said they will have an extra 31,000 passenger departing and by 8.30am almost 29,000 passengers had gone through security, a spokesman said.
In a bid to avoid the long queues and travel chaos that comes with a trip abroad, some 4 million holidaymakers will take to the roads today and tomorrow as they opt for a staycation.
Yet this will also entail "misery", as the usually tranquil stretch of the M25 is likely to become clogged with drivers this afternoon, leading to calls for drivers to stay calm.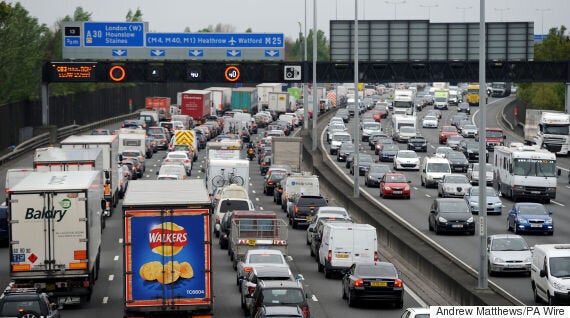 M25 file photo as motorists clogged up the road during last year's Easter getaway
RAC spokesman Simon Williams said: "The combination of the remaining schools breaking up, the biggest flying day of the year and a typical British summer's rainy day is a recipe for road misery today as around two million cars bound for holiday take on normal commuter and business traffic.
"The heavy and persistent rain will make driving conditions challenging and there is a real risk that delays may lead to frustration behind the wheel."