The five things you need to know on Friday July 24, 2015...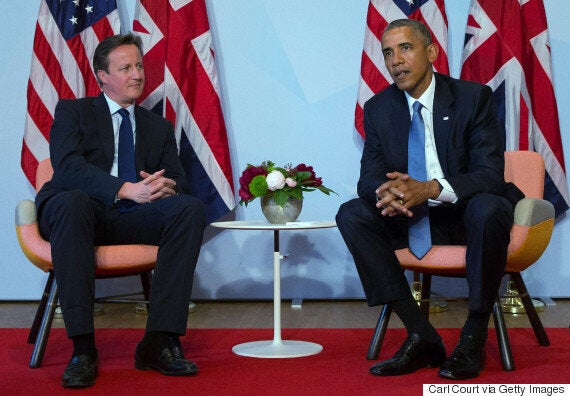 Barack Obama is getting more and more bold in his second term. And after several similar hints and winks at the G7 this year, his BBC interview again makes crystal clear his worries about Brexit.
"The European Union… is part of the cornerstone of the institutions built after World War Two that has made the world safer and more prosperous and we want to make sure the United Kingdom continues to have that influence," he said. Previously he had said he was 'looking forward' the UK staying in the EU. Now the US 'want to make sure' it does, which suggests a lot more pressure to come next year, Obama's last in office. (Note too Obama's line that there had been an 'honest conversation' between the pair of them on the 2% defence target)
Dan Hannan and UKIP's Patrick O'Flynn were quick to Tweet their dismay at such foreign interference. Curiously, a new intake backbencher Tom Pursglove, has been put up to put the Tory view. He said the issue of EU membership was "a matter for the British people". "It isn't for anybody else to tell the British people what they are going to do".
Just as interesting is the Indy story that a group of former UKIP businessmen are to launch a £20m campaign to persuade the public to vote to leave the European Union in the referendum. The 'know.eu' campaign is already causing worries among some Tories that it could split the No camp.
The race to 'stop' Jeremy Corbyn hots up. It's not always an accurate guide to party support, but the battle for Constituency Labour Party nominations is fierce and as of this morning it stood at Corbyn 91, Burnham 83, Cooper 79, Kendall 14. The Cooper camp were delighted at winning a surge of 14 CLPs last night.
The Burnham camp point to a new Standard/MORI poll showing their man as the public's (not just the party's) choice as best Prime Minister among the leadership rivals. He's ahead of the others, but the 27% figure ain't that high, the Tories will point out. Still, he's the only Labour candidate without a net negative rating among the public.
Charlie Falconer, a surprise Blairite backer of Burnham, tells the Times his man can beat Corbyn in a way Kendall and Cooper can't. It's a measure of Labour's challenge that he focused on beating Corbyn not Boris. But Kendall herself is furious with Falconer's suggestion that only Burnham is upto the job (and with that Times headline that 'Women In Leadership Race Not Upto Challenge'. "It is depressing to see a senior man in the party dismiss the contribution of women so easily," she said just now.
Kendall adds: "For Charlie to say that women somehow aren't tough enough to lead the Labour Party is a gross insult and, as for standing up to Jeremy Corbyn, I'm the only candidate who has been saying he would be a disaster for our party and that I wouldn't serve in his shadow cabinet, unlike the candidate Charlie is supporting." Ouch.
And one Cooper-supporting MP just sent a text on Falconer's column: "Surely the issue with Andy is not so much the depth of his convictions but how often they change. Little doubt he feels deeply about things...before he changes his mind on them." Double ouch.
The infighting continues. Alan Milburn says Labour would have a 'death wish' if it opted for Corbyn. David Miliband told Sky Labour needs 'new ideas, not old ones'. John Mann tells the Sun that Corbyn 'did nothing' to investigate child abuse scandals in Islington in the 1980s. Mann was swiftly labelled a 'scumbag' by Corbynites. Corbyn says in the Mail the slight on him is a 'new low'.
New Labour was often ridiculed as SDP Mk II. But could we get a close encounter of the third kind if Corbyn wins the Labour leadership, with mainstream MPs and activists splitting off? Tony Blair was swift to dismiss that this week and vowed to stay and fight. The Guardian splashes on an interview with Labour donor John Mills (who seems to get far too much attention simply because of his donor status) in which he says 'You would have an SDP-type party'. Ken Livingstone just told BBC News Blair was 'very lucky' to win three elections because the Tories were 'having a psychiatric breakdown'.
The final official Labour organised hustings is this weekend folks and I'm in the chair in Warrington tomorrow. Let's hope they all seize their chance to make it interesting...
Amber Rudd is proving herself the most subsidy-allergic of Energy and Climate Change Secretaries since the post was created under New Labour. And today Rudd has a speech whose prebrief has already got environmentalists up in arms. She will say in effect that the Left and its 'loudest voices' cannot be allowed to 'dictate' solutions to climate change. The key passage is this: "So I can understand the suspicion of those who see climate action as some sort of cover for anti-growth, anti-capitalist, proto-socialism."
To Labour and the groups she was attacking, that sounded very much like a sop to climate change-denying Tory backbenchers and peers like Lord Lawson. Caroline Flint says Rudd's words are 'unbelievable' and proof that the Conservatives are tearing up the cross party consensus on the issue.
The PM himself risked ridicule yesterday when he did a clip repeating his claim that his was 'the greenest government ever'. This came on the same day as Whitehall axeing the Green Deal for home insulation, and in the same week as Rudd slashing solar and wind subsidies. Add in fracking, a lifting of a pesticide ban and other moves and you can see why campaigners say the PM really doesn't have time for 'green crap'.
Still, Rudd sounds like she's trying to make a case for market-led solutions in a way that the ineffective 'mate of Dave' Greg Barker (one of just six who backed Cam in 2005) failed to do. As a mate of George, Rudd certainly has the clout to fend off barbs from her critics. And I've got a sneaking suspicion that she and the PM will try to pull off a surprise at the Paris climate talks this year, seizing on Obama's desire for a legacy and Chinese geopower play.
BECAUSE YOU'VE READ THIS FAR
The Indy has a nice follow-up to the revelation that secret Cabinet papers revealed officials decided not to do anything about allegations that a senior MP had 'a penchant for boys'. The paper reports that 'catalogued and unregistered' papers - known as the Civil Service 'black book'- contain the private records of Cabinet Secretaries from the 1950s until 2007.
Many of the memos were 'too hot to handle' and kept away even from ministers, an expert told the Indy. The papers should have been handed over the National Archive years ago and are only now being trawled through. A team of officials has been given until 2020 to go through them all to work out what can be published. As well as details on the Profumo affair there are also confidential assessments of other MPs and ministers' private lives.
Meanwhile Lord Armstrong, the former Cab Sec who was warned by MI5's Anthony Duff about the possible paedophilia of a senior MP, has denied any cover up. He tells the Daily Mail: 'I thought MI5's actions were correct at the time. I think they were right to report the rumour.. I don't think this is a matter of important people being protected. You can't pursue inquiries unless you have evidence on which you can base the enquiry. A shadow of a rumour is not enough.' Lord Armstrong said he knew the identity of the MP in question but refused to name him, saying: 'I think he was interviewed but he denied it'. Armstrong, older readers will remember, became famous for his phrase 'economical with the truth'...
5) TAXES FOR DAVE N GEORGE
The Sun has a scoop that David Cameron and George Osborne were both undercharged for tax to the tune of about £2,000. The sum is what they should have been paying as tax for a benefit in kind for living in 'grace and favour' accommodation in Downing Street. Instead of calculating the impact on their entire MP and ministerial pay, officials only assessed the latter. Treasury bosses were forced to admit the error to HMRC.
A Treasury spokesman admits the benefit in kind of living in No10 and No11 was 'misreported' in annual accounts for 2014.
Acting Shadow Chancellor Chris Leslie says: "If the Treasury cannot get the Prime Minister and Chancellor's own houses in order literally, how will they close the widening tax gap?"
The FT says the Treasury 'direction of travel' is to get broadband firms to pay a £500m levy to foot the bill for the final rollout of internet connections to all Britions by 2020.
The Telegraph splashes its undercover probe that has found that senior NHS England staff in charge of drugs policy are being paid to work as consultants for pharmaceutical companies.
A Times investigation has found Whitehall paid a half a billion pound cheque to a Swiss-based global fund to combat malaria, only days before a deadline to meet the UK's 0.7% overseas aid target.
The Sun splashes a photo photograph showing about 40 illegal migrants arriving in the UK on a freight train through the Channel Tunnel.
The WaughZone is taking a summer break (like many politicos I haven't been off since a few days in February). I'd like to thank you all for your kind words and support. See you the other side of August.
If you're reading this on the web, sign-up HERE to get the WaughZone delivered to your inbox.
Got something you want to share? Please send any stories/tips/quotes/pix/plugs/gossip to Paul Waugh (paul.waugh@huffingtonpost.com), Ned Simons (ned.simons@huffingtonpost.com), Graeme Demianyk (graeme.demianyk@huffingtonpost.com) and Owen Bennett (owen.bennett@huffingtonpost.com)