The resulting injury was so severe it ended his career and allegedly made Peter Schmeichel vomit on the pitch ( if you have the stomach for it you can watch the video below).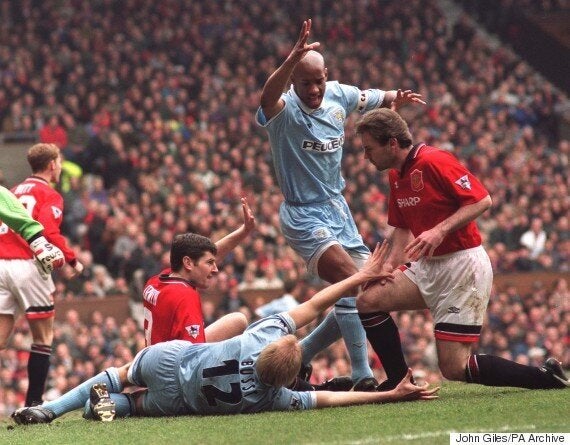 That is not a natural angle for a leg
And now Sky Sports presenter, Andy Goldstein, has tweeted a picture of the scars...
Busst had to endure 26 operations and contracted MRSA - at one point doctors discussed amputating his leg.
He was forced to retire the same year.
Busst told talkSPORT: "I was on the pitch 87 seconds when I got injured.
"Irwin came off the post I think and McClair came from behind and in that split second it was just the impact of two forces, one going one way and one going the other way.
"I knew something serious had happened; something wasn't in the place it should have been. I could see from the reaction of people around me. I'll never forget Dion Dublin, he was just bent down with his hand on his head, the look of horror in his eyes.
"They would have seen my right shin coming up at an 'L' shape when it should have been straight down.
"I didn't look down, you go into shock mode. The pain is excruciating. You freeze. You think any movement will make it worse.
"I saw the physio come on and then they called for the Man United physio to come on and then the doctors to come on. I hadn't passed out."