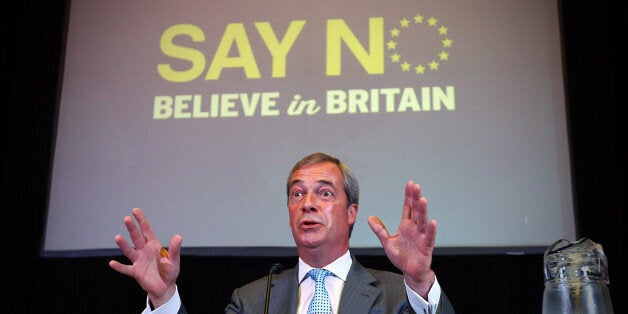 Ukip will launch a huge anti-EU ground campaign Nigel Farage announced today as he told eurosceptics in other parties to "get off their backsides".
Speaking in Westminster this morning, Mr Farage revealed the party will organise hundreds of public meetings across the UK in order to begin the ground war against the pro-European movement.
The Ukip leader, who failed to win a seat in May's General Election, also announced Ukip will not be bidding to become the official 'Out' group in the referendum as he hoped a cross-party consensus could be formed.
He said: "In the absence of anybody else, Ukip is going to take the lead in this country and we are going to launch in September a major ground campaign. We are going to launch in the first week of September the biggest public outreach programme this party has ever attempted."
Mr Farage added: "I want to make this clear, I will, and we will, share platforms, work and campaign with anybody out there in the Eurosceptic movement. You'll hear no negativity from us once they've got off their backsides and decided to join this fight."
Addressing a room of journalists, party officials and activists, Mr Farage lambasted other eurosceptics for letting David Cameron "set his own agenda" with the terms of the renegotiation of Britain's membership of the EU.
He claimed the 'yes' campaign could be given a 13 mile head start in the referendum marathon unless the 'no' side got itself organised as soon as possible.
Mr Farage said: "What of the no side? Well they've gone to ground. Those who in some cases have been calling for 20 years for a fundamental change in Britain's relationship with the European Union have decided to stand aside, to wait and see, not a snipe at the Prime Minister and to wish him well with his renegotiations."
He added: "Quite why these eurosceptics in the Tory Party have decided to say and do nothing, I don't know."
Mr Farage has faced criticism in recent months that he is too divisive to lead the 'Out' campaign, and may turn-off moderate eurosceptics who don't share his views on immigration.
Today, he said the ground campaign was not "some dramatic bid by me or others in this room to think that Ukip will get the official designation for the 'no' campaign".
He added: "We won't, and we won't be applying. What we will do is play our part in this campaign."
The group designated as the official 'no' campaign will have access to millions of pounds of funding, and will also be able to put forward spokespeople for any television debates on the issue.
The referendum is set to take place before the end of 2017, and will be the UK's first referendum on its relationship with Europe since 1975.