WARNING: INDUSTRIAL LANGUAGE
The video, posted to YouTube with the title "A clown takes a pratfall," shows the portly speedster in a battered Peugeot narrowly missing the cyclist.
An exchange follows that reads like the script of "Get Carter":
"Mate, how f***ing big is that bicycle? If you'd have had the decency to go over one side instead of taking the whole f***ing road ... are you a f***ing tank?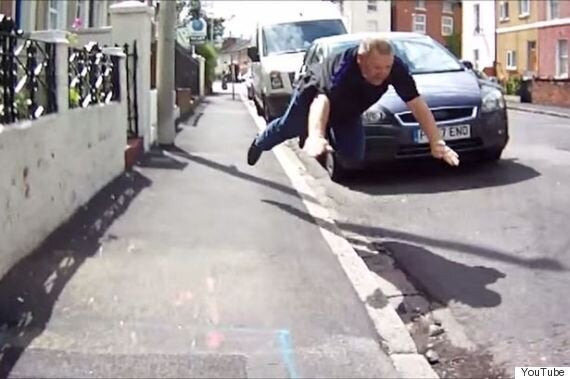 The cyclist said he would report the driver to the police, while pointing out he wasn't wearing a seatbelt,
"Put your seatbelt on," demanded the biker.
"Put your f***ing mouth shut!" replied the Reading wag. "You are really p***ing me off."
Reacting to the cyclist's laughter, the driver gets out of his car and oafishly chases the rider down the pavement... only to take flight after a misjudged kick at a wheel.
If you don't mind the sweary badinage, this is terrific (video above).
Related