Police have launched an investigation after an amateur photographer suffered a heart attack when two "yobs" tried to snatch his camera.
The men, riding a motorbike with false number plates, attempted to steal the 69-year-old victim's camera as he was taking pictures of flowers in Priory Park in Dudley on Tuesday 28 July around 2.30pm.
The elderly gentleman suffered an immediate heart attack as a result of the shock, but managed to escape, crawl home and call an ambulance.
Officers have released pictures the victim managed to snap of the pair on their motorbike, as well as CCTV images taken of the same couple at a shopping centre on Saturday.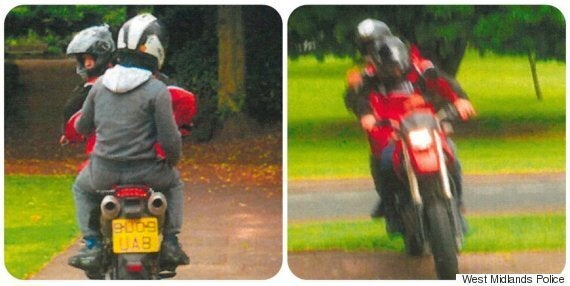 The two suspects, pictured on their stolen motorbike
Detective Inspector Nigel Smith, from Dudley Police, said: "Even though the gentlemen fell to the floor as he suffered the heart attack, he still managed to take pictures of his assailants.
"He then managed to crawl back to his house to alert emergency services who took him to hospital.
"He is now facing potentially life-saving surgery."

CCTV from the Merry Hill shopping centre
The two perpetrators are also wanted for the theft of a blue Yamaha motorbike believed to have been stolen from a multistory car park in the Merry Hill shopping centre on Saturday, just before 6pm.
The driver is described as young and wearing a red motorbike jacket with black down the sleeve and a black helmet. His passenger is also young, and was wearing a dark grey tracksuit with dark blue Nike Air Max trainers as well as a black and white striped helmet.
Anyone with information should call Dudley CID on 101 or Crimestoppers anonymously on 0800 555 111.