The TV programme that saw Ian Botham taken to the cleaners by Scottish school children at the height of his 1980s fame would be a success if revived for a new generation, its former presenter and newly-elected SNP MP John Nicolson has told The Huffington Post.
Social media has delighted in a YouTube clip of the cricket legend getting a rough ride on the Open to Question show in 1986.
The footage has become a cult hit since high-profile sportsmen are rarely exposed to being probed on childcare and fox hunting and "Beefy's" responses were free of cliche and political correctness.
Many saw something of Ricky Gervais's most famous creation in England's greatest all-rounder.
While a celebrity putting themselves at the mercy of ferociously bright teens might seem unlikely when they're surrounded by an army of PR handlers, Mr Nicolson thinks they'd succumb.
He told HuffPost UK: "The opportunity to be on TV and win over a new generation? Pretty irresistible. I think the programme would do very well if it was re-launched."
Beefy's Best Lines

On the impact of hunting: "There are more deer in this country than in the day's of King Henry VIII. Fact."

On being a film career: Q: "Hollywood ignored you when you went over there to be a film star ..." Botham: "Woah, woah, woah there ..."

On drugs: "The next thing you know you've got some kid chasing the dragon at the age of 14."

On childcare: "If you want to change nappies, change nappies. It's a free world. That's why my father fought in the Second World War."
Mr Nicolson, elected to represent East Dunbartonshire MP for the SNP this year, says he doesn't remember much about the confrontation (other than having to bone up on cricket), and didn't give the online revival much time.
"I haven't watched it," he says. "I caught one glance of my haircut and I think I closed the page.
"I did get quite a few tweets from people referring to my 'perm'. I answered them by saying it was not a perm, it was my hair. I don't think ringlets are a very good look for a Members of Parliament in their middle youth."
Open to Question was a BBC youth discussion show that ran between 1984 and 1994, first in Scotland before being expanded to the national network.
While a speechwriter in Washington for Democrat Senator Daniel Patrick Moynihan in his early 20s, Mr Nicolson was approached by a BBC producer who remembered him debating as an undergraduate in Glasgow, and asked to present the show. Guests included leading politicians and celebrities.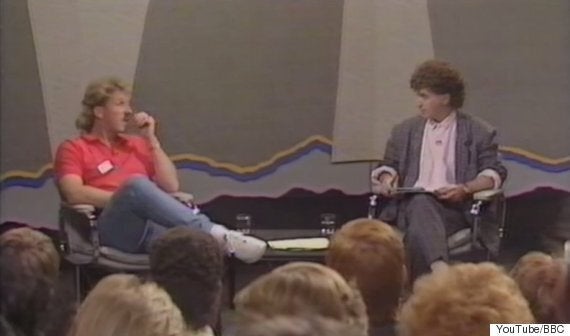 Ian Botham and John Nicolson, now an SNP MP, on Open to Question in 1986
Of his Open to Question debut, he recalls: "I found myself in studio with Archbishop Desmond Tutu, an audience of 50 and a satellite feed to South Africa and (anti-apartheid activist) Donald Woods in the studio.
"The editor said 'interview Archbishop Tutu, bring in Donald Woods, bring in the audience. They'll be a count down out of the show. Don't make any mistakes because the satellite feed is only 30 minutes and it's a 30-minute programme.'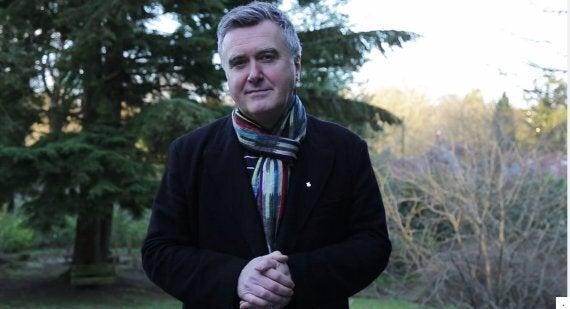 John Nicolson was elected as East Dunbartonshire MP for the SNP in the general election in May.
Mr Nicolson went on to be a TV presenter on some of the BBC's most high profile shows, including On The Record, Panorama, Newsnight, Watchdog and BBC News.
Open to Question had a regular audience that came back weekly, including Times film critic Kate Muir, the BBC's Sarah Smith and broadcaster Hardeep Singh Kholi.
Channel 4 News's Krishnan Guru-Murthy was another, and he went on to front the show.
"The kids would ask the most extraordinary questions," Mr Nicolson says, and YouTube attests to Cliff Richard getting a bumpy ride over how he reconciles his fame and fortune with his Christianity.
Stephen Fry, too, was forced to play off the back foot.
Mr Nicolson recalls how Neil Kinnock was "given a terrible time".
"He'd come thinking they want to talk about youth issues. But they wanted to talk about adult issues."
So, too, standards campaigner Mary Whitehouse.
"The kid in the audience said: 'Mrs Whitehouse, I'm 17 and my teachers and my parents tell me my hormones are raging and I think about sex maybe three or four times an hour.
"'But you're 76 and you seem to think about sex from the moment you get up in the morning until the moment you go to bed. Which one of us do you think has the problem?'