Stacey Soloman has spoken out about the stigma around postnatal depression having suffered from the illness herself after the birth of her son.
The 25-year-old said mothers feel humiliated or ashamed when diagnosed with PND, which is why they don't admit it.
"I felt really trapped, like I'm going to be terrible, I'm not going to be able to do this, I can't live up to what the responsibility is," admitted the singer.
Soloman was speaking in an exclusive interview to Rochelle Humes as part of AOL Original series, Being Mum.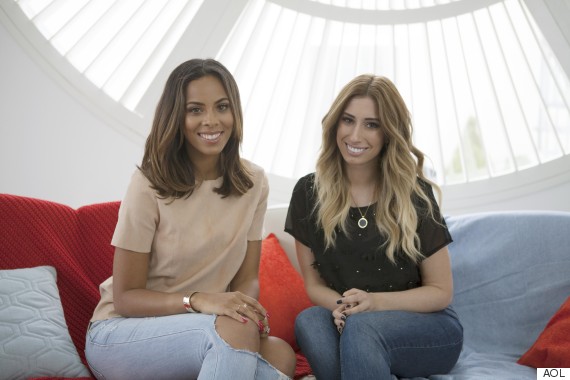 The mum-of-two to Leighton, two, and Zachary, seven, said the best solution for her was speaking to other people about it. They made her realise it was completely normal.
She added: "It was only then that I felt ok, it's something that takes over your body, you've got so many hormones going on. That little voice in my head was saying, 'well you're a mum now'.
"I think the initial worry that you're doing something wrong or you're a bad person for feeling that way takes over and if you just go and speak to someone and ask questions and find out about it then you'll soon realise that you're completely normal."
But Soloman is not alone in her experiences of postnatal depression. The stigma attached to the mental illness means many mums are suffering in silence.
Postnatal depression (PND) is more common than many people realise, affecting around one in 10 women after having a baby.
Maria Viner, Director of Mothers for Mothers, a postnatal depression support group said the stigma attached to PND is the same stigma attached to all mental illnesses.
She told HuffPost UK Parents: "Women often feel under great pressure to be enjoying every moment of motherhood and can also place great pressure upon themselves to be the perfect mother.
"The sense of failure can be overwhelming if they suffer from PND and they may be frightened to be honest about how they feel with friends and family due to this stigma.
"The media adds to this pressure by presenting us with images of women immediately returning to pre-pregnancy bodies and quickly returning to work while still being the perfect mum."
However Joanna Morton, MD of PND Support said much of the stigma stems from the misconception about what PND actually is.
"People wrongly believe that PND is when a mother is unable or doesn't want to care for her child which is not true," she told HuffPost UK Parents.
"There does not need to be any shame in admitting you have PND. One in seven mums experience depression and it is very common. I would encourage anyone to seek help and not to suffer in silence."
Viner, who runs the support group, said her main focus is to make sure mums know they're not alone. In the group, all the volunteers are those who have suffered and recovered from PND.
She added: "Meeting other service users in our groups who are experiencing the same or similar symptoms and emotions can help and peer support enables women and their children to build long-lasting friendships."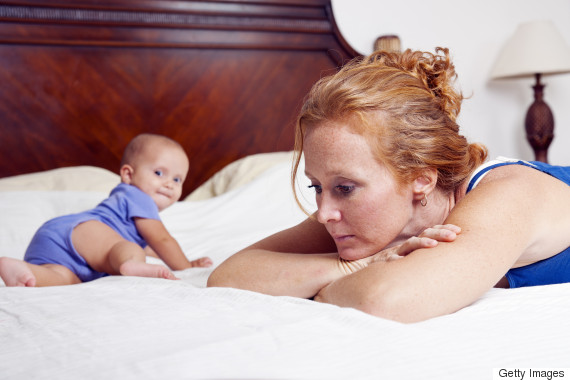 Being diagnosed with PND can also have serious knock-on effects for a mother's relationship and her children.
Siobhan Freegard, founder of Channel Mum, suffered from PND after the birth of her first child.
She said: "Studies show up to six in 10 mums have experienced PND in some form so it is nothing unusual - but keeping it hidden is what makes it feel that way.
"The illness can be dangerous as it makes you feel ashamed and that you aren't a good mother, so you don't want to tell anyone. But by keeping it secret you are giving it extra power and it's so much harder to get help and get better."
Freegard found talking therapies such as meditation were effective for her, but because not all parents are confident enough to do this, she suggested writing down how you feel and giving it to someone you trust.
She added: "Remember it is a medical condition that needs treatment and support to get better.
"Think of it simply and compare it to a broken leg: you need to get it set properly and not ignore and hide it and keep walking on it.
"With the right help and care, you will get through it and flourish again."
SEE ALSO:

Women Share What It Feels Like To Have Postnatal Depression In Moving Video

Anxiety And Not Being Able To Cope Are The Root Causes Of PND in Men, So Why Can't It Be Diagnosed?
Jeremy Todd, Family Lives Chief Executive said we can't ignore the fact PND is an issue that is increasingly being noticed in fathers, too.
He told HuffPost UK Parents: "The pressures of fatherhood, increased responsibility at home, financial worries and a change in lifestyle, as well as an obvious change in any relationship with a partner, can all contribute to feelings of depression in dads.
"These should not be overlooked by healthcare professionals."
Todd said the most important thing those suffering with PND can do for themselves is have the belief they can get better, as well as understanding they are not alone.
He advised: "Parents should try to get as much rest as they can although this can be difficult with a small baby.
"They should recruit the help of friends or family and readily accept any offers of help that come along. This is very important, as tiredness seems to make depression worse.
"Parents shouldn't try to force themselves back to normal too quickly. Many mothers feel that by keeping busy such as going back to work, things will right themselves, but this can actually prolong the illness."
Where can you go for help?
There are many local support groups set up throughout the UK Viner advised parents should seek to find by asking their GP.
Morton suggests for any parent who believes they may be suffering from PND should talk to a professional.
She said: "Parents should talk to their midwife, GP or health visitor. PND is very treatable and there are lots of things that can help. The early it is treated the quicker a mother will recover."
Todd agreed and said other sources of help could include the community psychiatric nurse, psychotherapist, counsellor or psychiatrist. He added: "Experts suggest that the best treatment for post-natal depression may be a combination of practical support and advice, psychotherapy, counselling and, if necessary, antidepressants."
The UK charity has a helpline - 0300 330 0700 - where volunteers provide a listening service for new parents experiencing difficulties or worries during early parenthood. Connecting with NCT branches can make parents feel less isolated and supported by their peers.
PANDAS (Pre and Postnatal Depression Advice and Support)
PANDAS is a UK charity in supporting families suffering from pre (antenatal) and postnatal illnesses. The charity offers sufferers and their families support and advice to help aid their recovery through the helpline 0843 2898 401, email support and national community groups.
APNI (Association for Postnatal illness)
The charity APNI offers a helpine 0207 386 0868 between 10am and 2pm every week day as well as offering a female and male APNI online forum for parents to discuss their issues anonymously. The charity also provides information leaflets as well as having a network of volunteers, who have themselves experienced postnatal illness.
Mind charity
Mind is a national UK charity with many regional branches dealing with different types of mental illness. They provide advice and support to empower anyone experiencing a mental health problem. To find a local branch or contact them, visit their website.
MAMA is a 'Meet a mum' association with a helpline (0845 120 3746) and offers self-help groups for mothers with small children who are looking to discuss issues and confide in others who might be experiencing the same thing.