Cultural appropriation has become quite a hot topic in the fashion and beauty world as of late, and Allure magazine is the latest publication to spark an online debate.
The magazine's August 2015 issue includes a hair tutorial titled: You (Yes, You) Can Have An Afro, which offers a step-by-step guide to recreating iconic 1970s hairstyles - including what Allure refer to as a "Loose Afro".
Not only did the feature not include a single black model, (the afro tutorial features white actress Marissa Neitling), it also made no reference to the political context of the natural style, worn during the American Civil Rights era as a symbol of black pride and equality.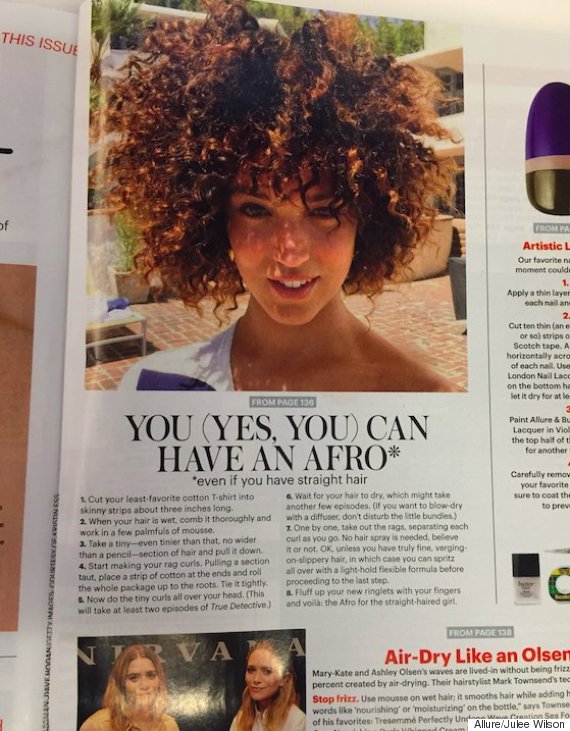 The reaction? People are not happy...
Hey, @Allure_magazine technically her style is called a Twist Out. #CulturalMisappropriation. #afropic.twitter.com/RL8olFkWRZ

— Angela (@angieadoptee) August 3, 2015
What a missed opportunity by @Allure_magazine to actually talk about afro hair...to girls who actually have it. pic.twitter.com/qO6kOLoUDW

— Eileen ¯\_(ツ)_/¯ (@MissWhoeverUR) August 3, 2015
.@Allure_magazine, why would you ever in your life think this was okay? pic.twitter.com/z4dEuiDmzM

— Olivia A. Cole (@RantingOwl) August 2, 2015
Allure magazine tweeted an explanation for their feature, saying they intended it to be "a celebration of self-expression", but this did not go down well with many commenters.
After posting the above tweet an Allure spokesperson told The Huffington Post the article reflects the level of self-expression "happening in our country today":
"The Afro has a rich cultural and aesthetic history. In this story we show women using different hairstyle as an individual expressions of style. Using beauty and hair as a form of self-expression is a mirror of what's happening in our country today. The creativity is limitless -- and pretty wonderful."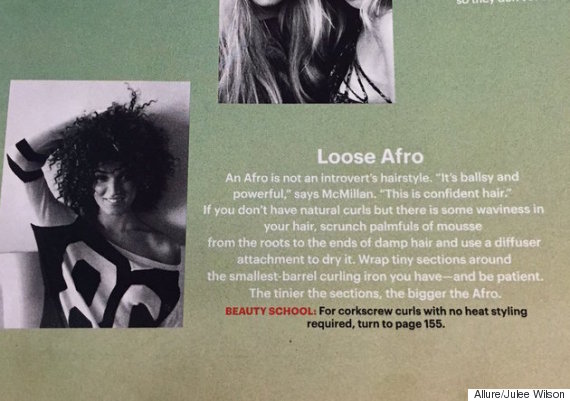 Does the feature reflect the ways women today are experimenting with their hair, or is it cultural appropriation?
Have your say in the poll below:
SEE ALSO:

Kylie Jenner Accused Of 'Appropriating Black Culture' By 'Hunger Games' Star

Amandla Stenberg Schools The World About Cultural Appropriation
ALSO ON HUFFPOST UK: