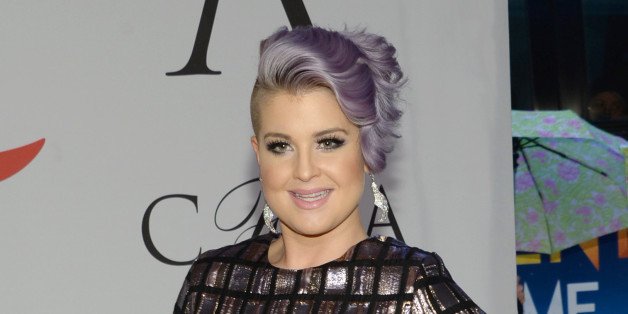 Evan Agostini/Invision/AP
Kelly Osbourne has come under fire on Twitter, after making a controversial comment about latinos during a conversation on US TV show 'The View'.
The star was a guest on the panel, when chat turned to Donald Trump, and the businessman-turned-presidential candidate's attitude to race.
While discussing Donald's many problematic comments on race and immigration, Kelly remarked: "If you kick every Latino out of this country, then who is going to be cleaning your toilets, Donald Trump?"
Watch her make the comment in this video (story continues below)...
Can't believe what @KellyOsbourne just said!!! 😲 #theview pic.twitter.com/yZ0AopgUkZ

— Malcolm Star (@IamKingMac) August 4, 2015
Her fellow panelists immediately realised the potential fallout Kelly's comments could lead to, and Ryan Seacrest jumped in, stating, "there's more jobs than that in the country for Latinos and Latinos are not the only people who clean toilets," to which Kelly replied: "You know I didn't mean it like that. I'm not part of this argument.'
Despite her second comment, Kelly has still come under fire on Twitter:
In attempting to decry Trump's racism, Kelly Osborne stepped into a tepid pool of her own. #TheView https://t.co/63M2HPhM0u

— April (@ReignOfApril) August 4, 2015
Kelly Osborne is the perfect t example of white ppl being unintentionally racist because of their privileges. THEY REALLY DONT GET IT

— Sir Shawnte (@ShawnteDoe) August 4, 2015
Add all the context you want to that Kelly Osborne statement and it's still all bad. ALL BAD. Not her place and the wrong forum.

— mobbdeen (@Deen8) August 4, 2015
Kelly Osborne is an idiot. A complete and utter fool.

— Mommy Beanz (@tbeanie97) August 4, 2015
WOW! Kelly Osborne just put her damn foot in her mouth...I do think it was not what she meant but DAMN! #theview

— Marisa King-Redwood (@marisaking) August 4, 2015
Kelly's live TV slip-up comes just six months after the presenter quit E!'s 'Fashion Police' following a race row, over a comment made by Giuliana Rancic.
Giuliana ended up leaving the show, after commenting that actress Zendaya's dreadlock hairstyle "looks like it smells of patchouli oil… or weed".
Kelly was one of Guiliana's critics, and tweeted her distaste over the comment before quitting, writing: "I DO NOT CONDONE RACISM SO AS A RSULT OF THIS IM SEREIOULSY QUESTIONONIG STAYING ON THE SHOW!" [sic]
LIKE US ON FACEBOOK | FOLLOW US ON TWITTER