'Homegrown', which looked at issues such as jihadi brides and attitudes towards Islam in the UK, was supposed to involve 112 actors from the National Youth Theatre (NYT).
The show's director Nadia Latif told the Guardian: "There was no warning. We got an email on Thursday night saying the show was cancelled, rehearsals are done, and the cast was told on Friday morning. And that was really a sucker punch, not least because we didn't see it coming at all. There must have been some extraordinary external pressure to cancel the production to justify that emotional trauma on a cast of 112 young people.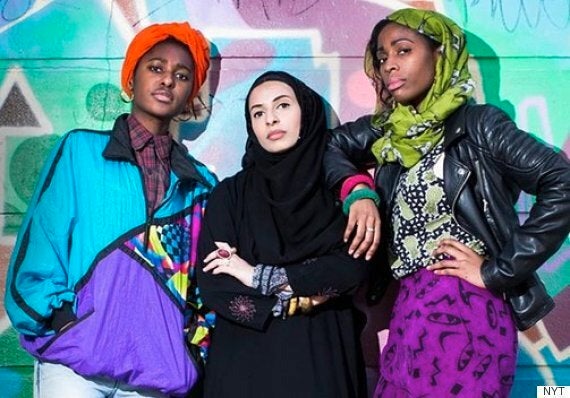 Some of the cast members of axed NYT play Homegrown
"This show was about having an intelligent conversation around an issue that has hysteria attached, and instead voices have been silenced with no explanation and without the content ever being seen because of this landscape of fear that we live in."
Organisers originally planned to stage the play in a school in Bethnal Green, east London, less than a mile from the school attended by three girls who ran away to join IS (also know as Isis, Isil or Daesh). But when the school realised the content of the play, they requested that the venue be changed.
A spokeswoman for Tower Hamlets council was quoted in The Stage as saying: "The school was not aware of the subject of the play when they agreed to lease the premises. Once they became aware, they decided that it would not be appropriate to rent their premises to the National Youth Theatre. The news of the missing school girls has had a huge emotional impact on their families and friends, as well as the entire local community."
It was also claimed that police requested to view the final script and considered putting plain clothes officers in the audience, according to the Guardian.
But despite claims that the play was running ahead of schedule and that the entire writing and rehearsal process had been completely transparent, the decision was taken to close the show down just two weeks before opening night.
A number of cast members and other supporters of the play began tweeting about the cancellation using the hashtag #JeSuisHomeGrown...
Robert Sharp, from writers' association English PEN, voiced his concern over the cancellation. He told HuffPost UK: "English PEN is concerned by the suggestion that Homegrown may have been cancelled because of its subject matter. We are currently in the midst of a government crackdown on extremism that includes proposals that could curb free speech. This creates a culture of caution, and the cancellation of the play appears to be the first instance of that caution impinging directly on artistic expression."
Journalists David Aaronovitch and Laurie Penny also tweeted their dismay over the decision.
A statement issued by the NYT said: "The production of Homegrown will no longer go ahead.
"After some consideration, we have come to the conclusion that we cannot be sufficiently sure of meeting all of our aims to the standards we set and which our members and audiences have come to expect.
"All purchased tickets will be fully refunded. Contact the National Theatre Box Office for further details."
But despite the claim that the production was cancelled for quality reasons, Latif, along with playwright Omar El-Khairy and members of the creative team said in a statement: "We were deeply shocked to find out in an email on Thursday evening from the Artistic Director of NYT Mr Paul Roseby, that the company has decided to cancel the production of Homegrown two weeks before the opening.
"Homegrown was intended to be a site specific theatrical exploration of radicalisation, the stories and communities behind the headlines and the perceptions and realities of Islam and Muslim communities in Britain today. The creative team and our cast of 112 young people were two weeks into our rehearsals, the culmination of six month process.
"The idea for the commission came from the artistic director of NYT, there has been a lengthy and active conversation throughout the last six months, notes have been exchanged and implemented, any concerns on either content, script were raised and discussed, we were ahead of schedule and there was open access to scripts and rehearsal content for any member of the company or NYT.
"No concerns regarding time were raised during the rehearsal process. As well as the factual inaccuracies of NYT's statement, we feel that, 6 days on from being told over email that show was pulled, it is bewildering that there are still unresolved questions regarding the cancellation of the show two weeks before our scheduled opening. We feel that the reasons of this production being pulled down have not been transparent, openly addressed and fully answered."
He told HuffPost UK: "I started the petition because I live in Bethnal Green, I'm a drama student, and I recognise that and the arts are there to provoke precisely this kind of discussion. It's really important that young actors / actresses are able to test themselves against challenging material, and it's important that we as a society explore why it is that people want to go and fight for what is, on the face of it, a pretty hideous group of people.
"Isis and radicalisation challenge just about everything we believe about ourselves in this country, and the answer isn't to retreat behind some self-imposed wall of silence, it's to challenge it.
"Two years ago a play called Knowledge of Angels was performed in a church in Tower Hamlets, just down the road from where this play was due to be performed originally. That features an atheist bisexual being tortured on a medieval island, and there was no kind of controversy whatsoever. We can't live in a country where certain kinds of speech are freer than others."
Related