Plans to empower Ofcom to vet and censor broadcasts for extremist content have been labelled "bonkers" by one of the BBC's most senior and recognised personalities.
Alan Yentob, the BBC's creative director, said the proposal implied broadcasters were "reckless" and went against the tradition of freedom of speech.
He was speaking having just delivered the annual Charles Wheeler Lecture on journalism on Thursday evening to an audience that included Boris Johnson, who, when asked his opinion of the plans, said: "Let's wait and see."
Alan Yentob said empowering Ofcom to screen and censor programmes for inciting extremism was 'a bit bonkers'
In a letter that was later leaked, Javid wrote the plans were "a fundamental shift in the way UK broadcasting is regulated, away from the current framework which is designed to take appropriate account of the right to freedom of expression".
Yentob said: "I think it's a bit bonkers. One of the things we stand for in Britain is freedom of speech. Do we actually think broadcasters are so reckless?
"Even the governors and the trust of the BBC do not pre-emptively stop things going out. And when they don't like it, there are casualties.
"I love this idea that the BBC is a job for life. Tell that to Gavyn Davies, to Greg Dyke [former chairman and director general respectively who resigned after the Hutton Inquiry], to god knows how many other people.
"It isn't. I think, we're not trusted enough. I don't think it's sensible, no."
Yentob had just delivered his lecture at the Univeristy of Westminster to the audience of journalists, academics and politicians about the BBC, where he has worked since 1968, including as controller of BBC 1 and BBC 2.
In his lecture, he defended the licence fee, saying: "There is so much goodwill towards us both at home and abroad. That is not something that we should put at risk, and that includes the goodwill of the licence-fee payers themselves.
"48% of them think the licence fee is the best way to fund the BBC, up from 31% a decade ago. That's a huge shift. Just 29% want advertising and 20% want a subscription model – something that would forever put the kibosh on our ability to provide something for everyone."
Asking the final question of the evening, Johnson said he agreed with Yentob's "stirring defence of BBC output in many ways" but asked for an explanation of why the broadcaster hadn't produced something "as brilliant, and complex and massive and all engrossing" as US hit series 'Breaking Bad'.
Yentob told Johnson it was "a slightly silly" question because the London Mayor, who is now also an MP, would not have time to watch much television, prompting Johnson to say the show was "the only thing I've watched".
Yentob said British productions were more diverse than their American counterparts, saying: "Here there's the good, the bad and the ugly. In America, the proportion of TV which is exceptional, it wouldn't feed you for too long...
"I think what British broadcasting is about is, not just a couple of good shows. It's about a way of life, it's about all kinds of things. Different parts of your family enjoy different things. We share different experiences."
He added: "The real danger is if the BBC disappears, or isn't properly funded or sufficiently funded... If you don't acknowledge that it's had a tough time and got much more efficient than it was... I think, you want the BBC with you through the future to underpin the creative ecology.
"And not just that, but a way of life in Britain where the BBC has been there for all these years. I think we'd miss it if it wasn't."
Yentob added: "If it crumbles and if it's underfunded and every newspaper has a go at it, not that many of the readers much care, if it's taken for granted, we'll regret it, that's all I'd say."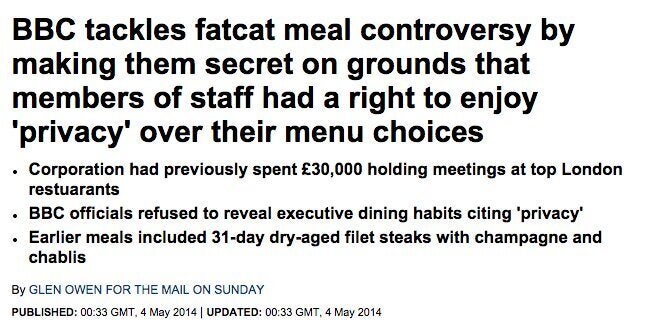 Daily Mail Bashes BBC