Jeremy Corbyn has said national security is not won through the ability to "destroy your neighbour" with nuclear weapons as he gave a rousing speech to activists to mark the 70th anniversary of the atomic bombings of Hiroshima and Nagasaki.
Addressing those gathered for a Campaign for Nuclear Disarmament (CND) commemoration at London's Tavistock Square, the Labour leadership frontrunner said the "voices of protest" are "very strong" and urged those gathered to "win people over to the idea a nuclear-free world is possible".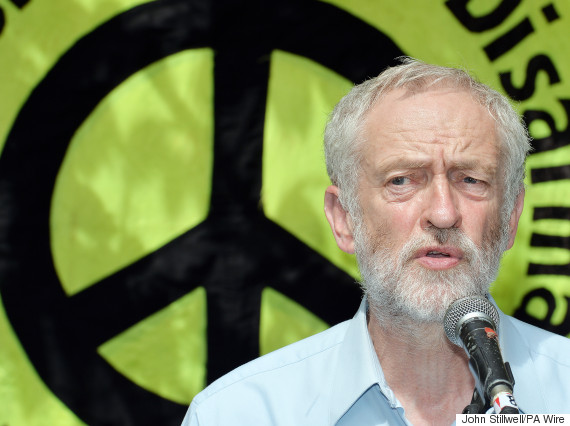 Jeremy Corbyn: "Security is not the ability to threaten and destroy your neighbour. Security is when you are able to get on with your neighbour."
Ditching nuclear arms has been a central promise of the left-wing candidate's leadership bid, setting him apart from his rivals. Labour abandoned its commitment to unilateral nuclear disarmament in the 1980s.
Stunning polling has put him in first place in the leadership race ahead of Andy Burnham, Yvette Cooper and Liz Kendall, with thousands joining the party for £3 as a "registered supporter" to vote for the Islington North MP.
SEE ALSO:

Jeremy Corbyn Pledges 'Socially Productive' Jobs To Replace Work Lost By Ditching Trident

Jeremy Corbyn Gave A Speech On A Fire Engine, As 'Economically Illiterate' Shadow Chancellor Attacked
Mr Corbyn, a CND vice-chair who attends the event each year, said: "Nuclear weapons are not a defence, not a security. Just an ever present and costly danger. Not just to us but to the entire world."
His speech was delivered from beneath a tree planted in memory of the victims of Hiroshima.
Corbyn's CND address at Tavistock Square draws in a crowd #JezWeCanpic.twitter.com/yrSLgqRXIp

— Graeme Demianyk (@GraemeDemianyk) August 6, 2015
The veteran left-winger said MPs voting on whether to renew the UK's Trident nuclear weapons system was an "historic opportunity", not just to take a lead but also to re-direct the £100 billion saved to tackle "poverty, inequality and environmental destruction".
He said MPs had to consider whether "real security in the world" is "securing the ability of a society to provide housing, healthcare, social security, jobs education, hope ... for its entire population".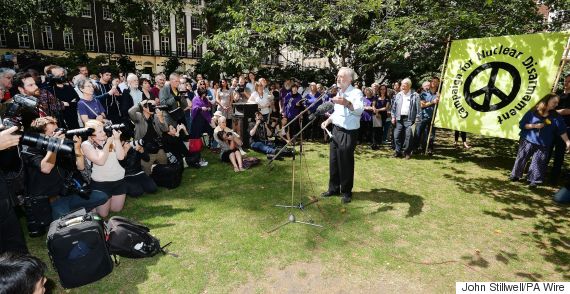 Jeremy Corbyn speaks during an event to mark the 70th anniversary of the Hiroshima bomb, in Tavistock Square, London
Ahead of the speech he announced he would establish a Defence Diversification Agency to protect the jobs and skills of those who work on nuclear weapons, but find more "socially productive" work.
If elected Prime Minister, Mr Corbyn said he favoured a world where "we invest in green energy, we invest in high technology, we invest it medicine, we invest in dealing with the Aids pandemic and so many other things around the world".
He added: "We re-configure the basis of what we are doing away from weapons of mass destruction and towards promoting and using the skills that deal with the real problems of poverty an inequality and environmental destruction that face this planet."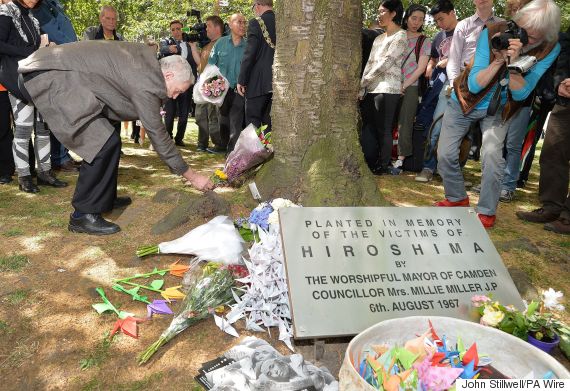 Jeremy Corbyn lays flowers during an event to mark the 70th anniversary of the Hiroshima bomb
He dismissed the notion that Britain and the US holding nuclear arsenals was laying a path to peace: "If you follow that argument every single country in the world would have nuclear weapons to protect itself and its own security."
And he warned of the "serious dangers" of nuclear weapons expansion in the Middle East and warned "one war begats another begats another".
He said Hiroshima and Nagasaki showed the "sheer levels of devastation" that results from a nuclear explosion and the "cancers that live on and all the horrors with it", warning the bombs available then were "fireworks compared to the nuclear weapons now available".
In a call to "peace and justice", he said: "It is possible to live in a nuclear-free world, it is possible to live with real security. Security is not the ability to threaten and destroy your neighbour. Security is when you are able to get on with your neighbour."