A museum that promised to celebrate women's history, but was instead dedicated to notorious prostitute killer, Jack the Ripper, caused a fierce public protest as demonstrators gathered outside its doors this week.
Google diversity chief Mark Palmer-Edgecumbe promised "the first women's museum in the UK", but instead delivered a museum that reduces women "to a red smudge" by opting to focus on the infamous serial killer.
The Cable Street building has received growing attention in the past few days after news of the change in subject matter spread.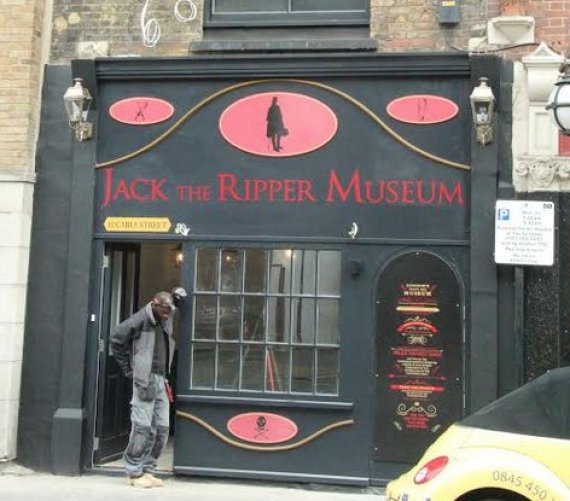 Jack the Ripper Museum
The Whitechapel museum is painted black and red and features a sinister silhouette of a man in Victorian dress for its logo.
Opponents to the museum now think it represents misogyny rather than women's achievements.
On Tuesday the Greens, Liberal Democrats, Communist Party and other left-wing groups held a demo outside the proposed museum, Vice reports.
The following night anarchist rabble-rousers Class War joined in the demonstrations.
Private security was on hand, but this did not dissuade rocks reportedly being thrown at the windows.
Anarchists Smashed the Windows of East London's Crappy New Jack the Ripper Museum http://t.co/hUb4O7HSfH pic.twitter.com/rrYA4IoP6F

— VICE (@VICE) August 7, 2015
The planning application compiled by Mr Palmer-Edgecumbe's architects, Waugh Thistleton, last year featured women from a range of ethnic backgrounds campaigning for equal pay and rights.
The founder of Waugh Thisleton said he feels "duped" into designing the museum, which he thought would celebrate women's history.
Speaking to Building Design online, Waugh said he would not have touched the project "with a barge pole" if he had known what the museum was to become.
He said: "It is salacious, misogynist rubbish. The local community was duped, we were duped. You do rely on the moral fibre of your client but you should also be able to rely on the planning system.
"They came to us and said they had no money but that this is a real heart-felt project. It is incredibly important to celebrate women in politics in the East End. We really ran with it."
He added: "When we heard it was going to be turned into a Jack the Ripper museum we contacted the owner but got nothing back, we heard nothing."
Jack the Ripper Museum Cable Street Whitechapel. Where women have been reduced to a red smudge pic.twitter.com/SJ0mTTVdIH

— Lisa Mckenzie (@redrumlisa) July 28, 2015
SEE ALSO: