David Cameron should not try to "bounce" the Commons into a fresh vote on UK military action in Syria next month, Andy Burnham has warned.
In his strongest signal yet that the Prime Minister could find it difficult to win his support, the Labour leadership contender told The Huffington Post UK that there was no "urgency" for a Parliamentary vote.
After weeks of speculation that Mr Cameron could try to win Labour backing within days of the new leader being elected, Mr Burnham said such a move would be "disrespectful" to the millions in the country who harboured doubts about extending airstrikes from Iraq to Syria.
Both the Prime Minister and Defence Secretary Michael Fallon believe that there are sufficient legal grounds for extending the role of the RAF and special forces currently fighting against Islamic State, also known as ISIL or ISIS, in Iraq.
But in a wide-ranging interview with HuffPost UK, Mr Burnham made clear he felt that the lesson of Tony Blair's war in Iraq was that caution was needed and key tests had to be met.
"The tests are quite big. There's a very large one about legality first, because it's not like the 2013 situation [when Ed Miliband led his party to defeat Cameron on a parliamentary vote in Syria]. This isn't an invitation by a democratic government to come in, is it? I'm struggling with that myself.
"I think the legality is quite a big one given Labour's past, Chilcot. That is something that can't be glossed over and shouldn't be."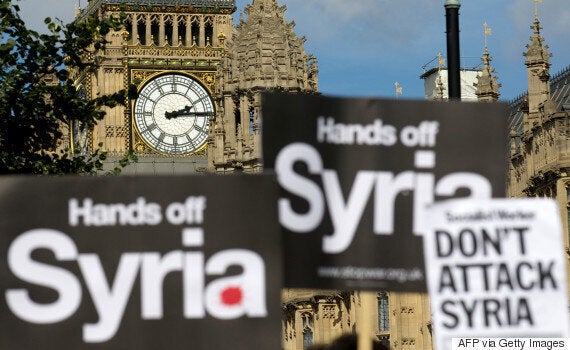 A protest outside parliament in August 2013, before the Commons voted against a government motion to bomb Syria
Mr Cameron is keen to get Labour's backing but the Opposition effectively have a veto on military action under the convention that the Commons has to approve any new campaign first.
Many Labour MPs, and some Tories, are nervous about dragging the UK into a fresh quagmire in Syria, even though there are unlikely to be any "boots on the ground".
Mr Burnham added that he would not "rule out" supporting military action, stressing his party would "do the responsible thing".
"ISIL need to be disrupted, of course they do. We would look at it seriously."
But he added: "The message I would just send back to Cameron at this stage is: treat us with respect because it's not about the Labour party. The Opposition is the country in this, we've got to test what they are saying on behalf of the country.
"And if they try and bounce the Opposition into this they are not treating the country with respect. We had a swirl of gossip, Parliament was going to be recalled and then we hear the first week when the new Labour leader is elected, it's going to be right back [in the Commons]. Personally, that would be disrespectful to the country."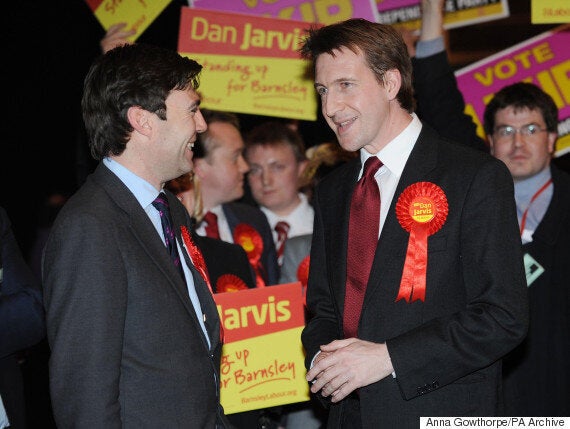 Dan Jarvis, former Para, and now shadow foreign minister
Labour's acting leader Harriet Harman and shadow foreign minister Dan Jarvis, a former soldier who is backing Mr Burnham's campaign, have already been briefed on the situation in Syria in a Downing Street meeting of the National Security Council.
It emerged this summer that some RAF pilots have already been embedded with US forces in action in Syria, prompting criticism for Tory as well as Labour, SNP and Lib Dem MPs.
Some military analysts have also suggested any UK involvement in Syria would only be of 'symbolic' rather than military value, given the size of the US forces:
Mr Burnham told HuffPost UK: "Symbolism sometimes is important in these matters to show there's a bigger international effort and it's not just the US versus the extremist forces.
"But I don't see the urgency myself. I don't see the urgency at the moment unless they can convince me why it has to be that week in September. I'm getting excellent advice from Dan [Jarvis].
"And it's advice that is this: we are not scarred so much that we won't say Labour should play its part where it's justified, but I think people would expect me to learn the lessons of the last decade and proceed with caution and that's what I will do."
Asked about leadership rival Jeremy Corbyn's recent remark that Tony Blair could be tried for "war crimes", Mr Burnham said: "I think that is a very provocative statement.
"We all lived through that period, it was an intense period where judgements were made. People can look back with hindsight, but it was an incredibly difficult period where the world felt like was in a huge state of flux post September 11.
"The thing people have got to remember is Tony Blair's interventions relieved huge amounts of suffering in the Balkans, in Sierra Leone. We as a Labour party, let's have a bigger picture and respect those who took difficult decisions."