National Doughnut week may have been and gone, but it doesn't mean you can't still enjoy some delicious dessert-themed nail art.
This pink sprinkle manicure looks good enough to eat (but don't) and is so simple, you could even do it with sugar-high shakes.
1. For this calorie-free doughnut look, start off with a base coat (here I went for Bourgois) followed by a couple of coats of vibrant pink. I used Hibiscus from Boots Natural Collection.
2. Next, grab a few nail pens (WAH London ones are great) and with the nib end draw short, straight lines at random angles on the nail. Use different pastel shades to give the sprinkle effect.
3. Finish off with a layer of top coat – China Glaze Fast Forward is good and dries in a flash.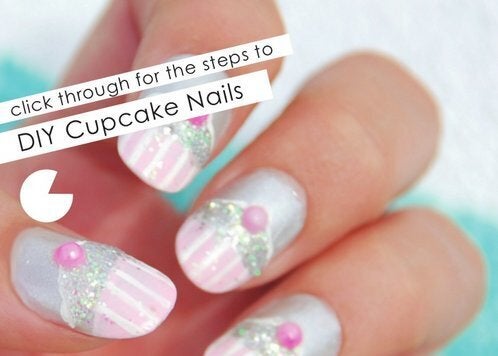 Cupcake Nail Art Tutorial