Islamic State is reportedly urging British jihadists to carry out "lone wolf" attacks in the UK instead of travelling to fight in Syria, as plot emerges to attack the Queen at VJ commemorations.
Sky News infiltrated the terror group using two online identities and made contact with Junaid Hussain, a 21-year-old jihadist from Birmingham, who runs the IS information and recruitment arm from Syria, and his wife Sally Jones, 45, from Kent, who helps recruit for the Islamic State. Hussain is a top-five drone strike target for the US Secret Service.
The broadcaster said its operatives were sent terror guidebooks by senior jihadists in Syria - including advice on raising funds and making weapons - and was told about upcoming terror plots in the UK.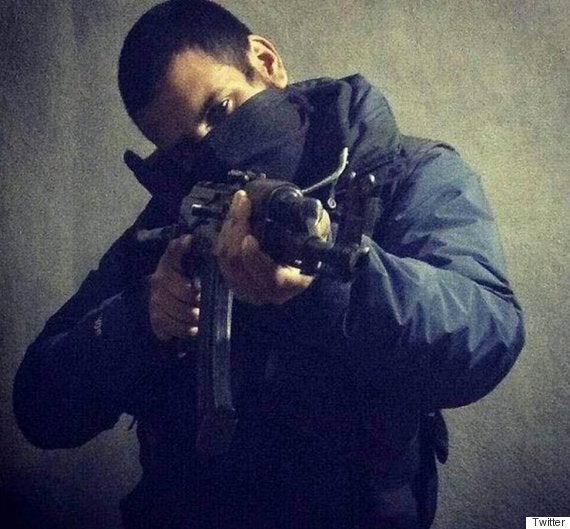 Sky News made contact with IS operative Junaid Hussain and his wife Sally Jones and uncovered UK terror plots
It reported that IS had a number of potential bombers in the UK, some of whom had been trained in Syria and were ready to attack, and that Saturday's VJ commemorations involving the Queen and the Royal Family were a target.
That plot was reported by the Mail On Sunday over the weekend and triggered an urgent security review.
Police are yet to comment on the claims, but are said to be preparing a statement.
In a change of tactics for the terror group, Sky News said their operatives were urged to form gangs and create British IS cells, rather than travel to Syria and join the fight.
It reported that Jones asked its operative what she wanted to do the UK - to cut a head off or blow up a bomb - and was reassured she would be given key instructions for sourcing materials for, and making a bomb.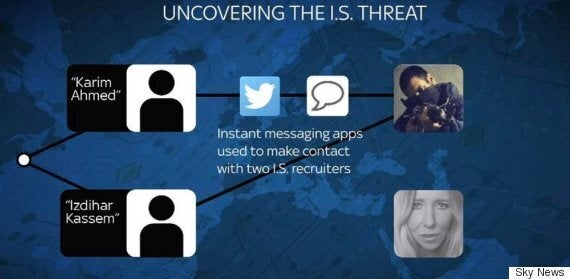 Sky News created two fake identities, a male and a female, and corresponded with Hussain, top right, and Jones, bottom right, who said she would help them make a bomb
Sky reported that Jones claimed to have another potential bomber in Scotland and two others who had so far failed to attack. She revealed the VJ commemorations plot.
A reporter for the broadcaster also travelled to the Turkish Arabic city of Urfa, which lies near the Syrian border, where he said he met with a man who was part of IS internal security. His job, it said, was to oversee foreign jihadists as they underwent training for specific missions outside Syria and Iraq.
The man, Sky reported, claimed four or five of the foreign jihadists were English and that they had completed training and had returned to the UK to launch an attack.
He told the reporter that the attacks would involve the "Kalashnikov, the pistol, the bomb, grenades and other things".