Susan Boyle proved to the world she could pull shapes like the best of them, when she appeared on stage as a special guest of Nile Rodgers.
SEE MORE:
The Chic frontman was among the stars performing at the Party At The Palace festival on Sunday night at Scotland's Linlithgow Palace… and what would a performance in Scotland be without the a bit of bonnie SuBo, eh?
During his set, members of the public joined Nile on stage for a bop, including the 'Britain's Got Talent' singer, who - as you can see - looked like she was having the time of her life as she danced around the stage.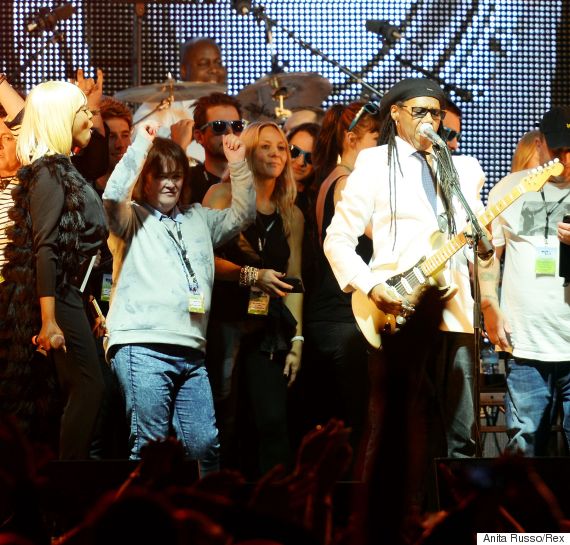 SuBo puts her 'hands in the air', suggesting she 'just doesn't care'
Sporting a jaunty floral sweatshirt, Susan put on an energetic display at the front of the crowd, putting a massive smile on Nile's face with her dance moves.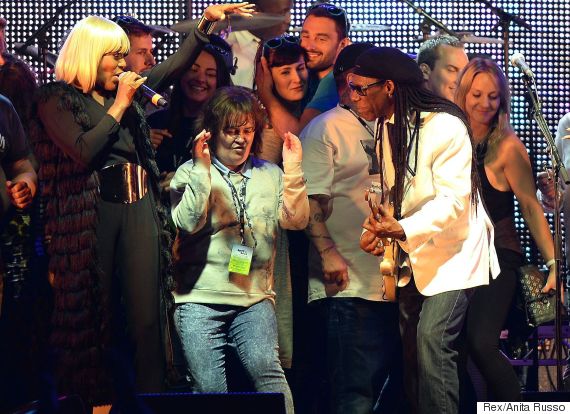 YASSSSSSSSSSSS
Please, PLEASE let this mean that a collaboration is in the works? We're as fond of 'I Dreamed A Dream' and 'Mad World' as anyone is - but we know that a true diva like Susan has a Donna Summer-esque disco album buried in her somewhere, and we think Nile is the perfect man to draw it out of her.
The two were also photographed spending time together backstage at the festival, so fingers crossed they were discussing studio time and potential album titles, rather than the weather and if Simon Cowell's hair is actually that flat in real life.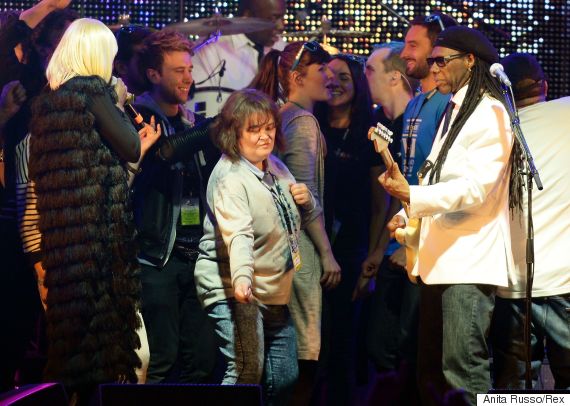 We could look at these photos all the live-long day
Of course, Susan is becoming something of a festival staple lately (move over Alexa Chung, eh?), having been seen sporting a *ahem* problematic Native American headdress at T In The Park last month.
LIKE US ON FACEBOOK | FOLLOW US ON TWITTER