Jeremy Corbyn has faced a barrage of criticism over claims he associated with Holocaust deniers and "outright anti-Semites".
Britain's oldest Jewish newspaper, The Jewish Chronicle (JC), demanded answers from the Labour leadership frontrunner in an editorial published on Thursday.
The JC said it was "near certain" that the Islington North MP would become Labour leader but claimed it and many British Jews felt "deep foreboding at the prospect".
The JC's front-page editorial posed seven questions to Mr Corbyn. These asked whether he was attending a conference held by the Deir Yassin Remembered (DYR) group, that has published "open anti-Semitism," according to the paper.
DYR is a controversial pro-Palestinian organisation founded and run by holocaust denier Paul Eisen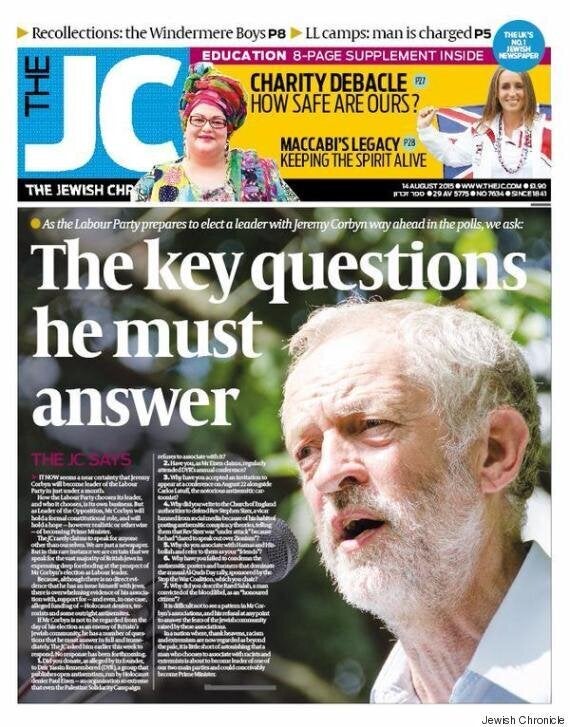 It also asked why he wrote to the Church of England to defend a vicar who promoted conspiracy theories blaming Jews for 9/11 on social media.
Appearing under a headline "The Key Questions He Must Answer", the editorial says he must explain his association or shared platforms with those it deems "racists and extremists".
The paper wrote: "If Mr Corbyn is not to be regarded from the day of his election as an enemy of Britain's Jewish community, he has a number of questions which he must answer in full and immediately. The JC asked him earlier this week to respond. No response has been forthcoming."
The editorial concluded: "In a nation where, thank heavens, racism and extremism are now regarded as beyond the pale, it is little short of astonishing that a man who chooses to associate with racists and extremists is about to become leader of one of our two main parties and could conceivably become Prime Minister."
A spokesperson for Mr Corbyn told The Huffington Post UK that he was not attending a conference on August 22, as the JC had asked, and said opposition to anti-Semitism was his "strongly held view".
"Jeremy is proud to represent a multicultural constituency of people from all over the world and at to speak at every opportunity of understanding between Christian, Hindu, Jewish, Muslim and other faiths", the statement said.
"He has delivered this message in all places of worship. No place of worship should ever be attacked and nobody's right to practise their faith in peace should ever be prevented."
Like many left-wing critics of Israel, Mr Corbyn has attracted allegations of anti-Semitism. He once referred to "friends" in Hamas and Hezbollah, armed groups both committed to the Jewish state's destruction.
The veteran left-winger lost his temper following a repeated line of questioning, finally saying that he used it "in a collective way, saying our friends are prepared to talk" and denied that the wording meant he was friendly to either group.
"Does it mean I agree with Hamas and what it does? No. Does it mean I agree with Hezbollah and what they do? No. What it means is that I think to bring about a peace process, you have to talk to people with whom you may profoundly disagree."
Mr Corbyn's spokesperson added: "Jeremy has involved himself in Middle East issues for many years, meeting many people and groups with whom he has huge differences of opinion - but he believes that only dialogue can bring about peace.
"The Holocaust was the most vile period in human history and the Jewish people were scapegoated by the Nazis. Some people in Britain, including Jeremy's own parents, stood in Cable Street in 1936 to halt the rise of Nazism in our country.
They added: "Only by unity of all people and all faiths can we defeat racism and build an inclusive, tolerant society.
"Jeremy's very strongly-held view is there should not be any anti-Semitic, Islamophobic or racist slogans or banners at any demonstration, ever."