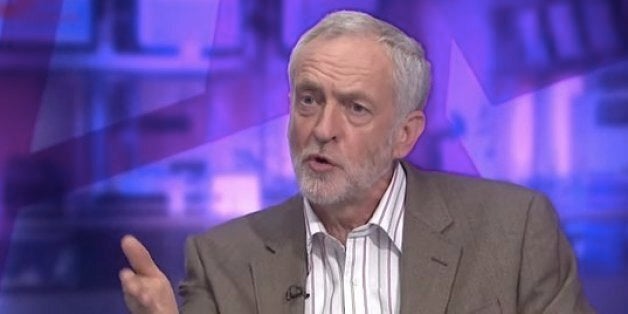 Labour leadership contender Jeremy Corbyn has accused Channel 4 News of 'tabloid journalism' after a live TV grilling over his description of Hamas and Hezbollah as 'friends'.
The veteran leftwinger lost his temper with news anchor Krishnan Guru-Murthy following a repeated line of questioning over his use of the phrase about the two main militant groups in the Palestinian Authority and in Lebanon.
Mr Corbyn finally said that "I use it in a collective way, saying our friends are prepared to talk" and denied that the wording meant he was friendly to either Hamas or Hezbollah.
"Does it mean I agree with Hamas and what it does? No. Does it mean I agree with Hezbollah and what they do? No. What it means is that I think to bring about a peace process, you have to talk to people with whom you may profoundly disagree."
Plainly furious with Guru-Murthy for his interview approach, Mr Corbyn told him "thanks for the tabloid journalism".
To which the Channel Four man replied: "That's not tabloid journalism, that's putting your own words back to you."
Corbyn hit back: "Yes it is! You are evading asking me to give an opportunity to discuss with the wider issue of the Middle East".
Hamas and Hezbollah are proscribed as terror groups in the United States and have been condemned for their anti-Semitism and military action against Israeli civilians.
Early in the Channel 4 interview, the Islington North MP stressed that he had used the phrase 'friends' to introduce speakers from Hezbollah at a Parliamentary meeting.
"I spoke at a meeting about the Middle East crisis in Parliament and there were people there from Hezbollah," he explained.
"And I said I welcomed our friends from Hezbollah to have a discussion and a debate, and I said I wanted Hamas to be part of that debate. I have met Hamas in Lebanon and I've met Hezbollah in this country and Lebanon.
"The wider question is Hamas and Hezbollah are part of a wider peace process. Even the former head of Mossad says that there has to be talks involving Hamas.
"I've also had discussions with people from the Right in Israeli politics who have the same view possibly that the state of Israel should extend from the river to the sea, as it is claimed people from the Palestinian side do."
The whole controversy stemmed from this YouTube clip that emerged last month of Mr Corbyn speaking about the two groups.
The exchanges prompted lively debate on Twitter, with some praising the Channel 4 man for asking the question but others supporting Mr Corbyn for his defiant response.
Some Labour members liked the feisty response.
Some felt he lost his temper too easily.
Others just remarked wryly on the 'nought-to-sixty' acceleration in Mr Corbyn's angry reaction.
Mr Corbyn, who faced similar controversy when he backed talks with Sinn Fein during the height of the IRA's bombing campaign in the 1980s, is winning local party support in his bid for leader.
Among constituency Labour Party nominations, he is so far in second place behind Andy Burnham, but ahead of Yvette Cooper and Liz Kendall.
Last week, The Huffington Post UK revealed that campaign group Labour First were so worried about the Corbyn camp's momentum that it called on Burnham, Cooper and Kendall supporters to unite to ensure he didn't get CLP nominations.