A ferocious blaze that broke out in a family home in California has been extinguished by a team of GoPro-wearing firefighters.
The intense video shows what it's really like to tackle a burning building, in the shoes of those fighting to save lives.
Three adults and four children escaped from the blaze unharmed. They stood helplessly by as the blaze caused $200,000 (£127,000) worth of damage to their family home.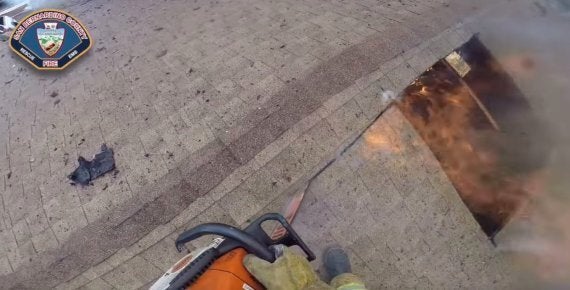 The footage illustrates a day in the life of a Californian firefighter
The video, released by San Bernardino County Fire Department, follows one firefighter as he heads to the scene on La Paz Drive in a fire truck.
He climbs onto the roof of the building, wielding an instrument to cut open the tiles, which is a technique used to allow the smoke trapped inside to escape.
As the fire rampaged on the crew fought to distinguish the flames. It took five engines, one truck company and a battalion chief to tackle the emergency.
The crew also rescued the family dog trapped inside the house, reuniting the distressed canine with it's owners.
The source of the blaze is unknown but it's under investigation.
Earlier this year astonishing first person footage emerged of the firefighters tackling a bush fire in Australia.