Wawrinka wrote on his Twitter account that the Australian's words were "not only unacceptable but also beyond belief."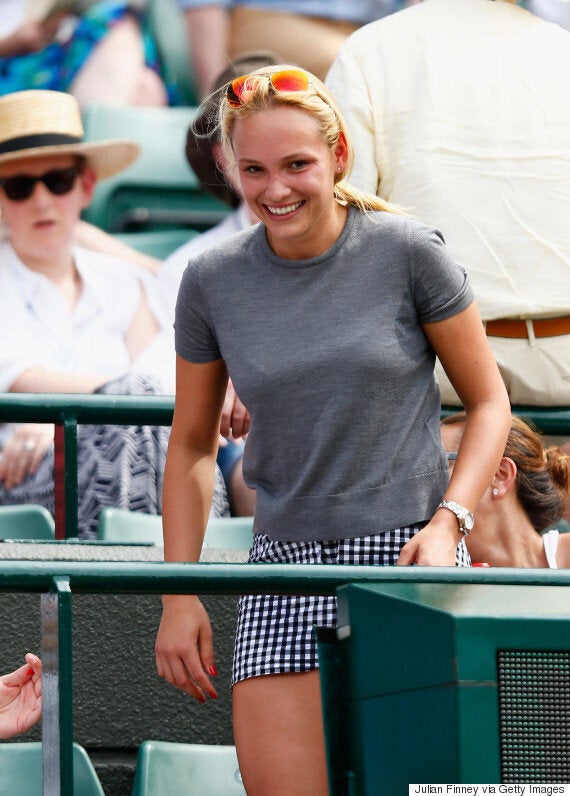 Croatian tennis player Donna Vekic, 19 is the girlfriend of Swiss Stanislas Wawrinka
A courtside microphone at the Rogers Cup match in Montreal picked up the Kyrgios telling Wawrinka: "Kokkinakis banged your girlfriend - sorry to tell you that mate."
Vekic, ranked 127th, played mixed doubles with Kokkinakis, also 19 and ranked No. 76, at the 2014 Australian Open as a wild-card entry.
Wawrinka, ranked fifth in the world, announced in April that he had separated from his wife, with whom he has a daughter.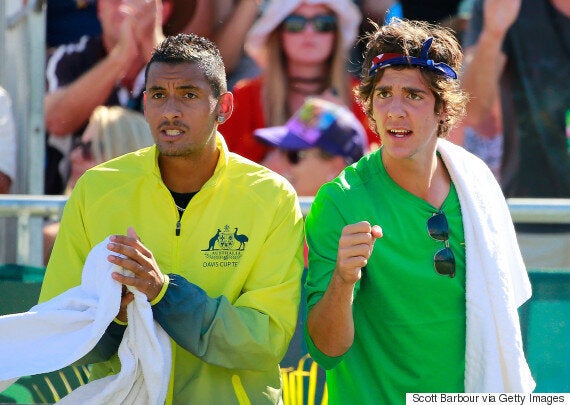 Nick Kyrgios and Thanasi Kokkinakis cheer on the Australian Davis Cup Team in Darwin this year
The 30-year-old Swiss was forced to retire from the match through injury in the third set but tweeted his opinion of the matter afterwards: "There is no need for this kind of behaviour on or off the court and I hope the governing body of this sport does not stand for this," he wrote on Twitter.
It would appear the public agree and aren't afraid to use slightly less... professional language.
In a post-match interview on court, Kyrgios said Wawrinka had provoked him.
"He was getting a bit lippy at me so, I don't know, it's just in-the-moment sort of stuff," Kyrgios said. "I don't really know, I just said it."
And plenty of people were keen to defend the Australian...
Kyrgios beat Wawrinka on Wednesday when the Swiss retired with a lower-back injury while trailing 4-0 in the third set.
The ATP rule book allows a fine of up to $10,000 for incidents of verbal abuse or unsportsmanlike conduct.
The rules note that a "singularly egregious, a single violation of this section shall also constitute the player Major Offense of Aggravated Behavior."
Wawrinka's coach, Magnus Norman, also criticized Kyrgios, who has been at the center of controversy in recent weeks.
"That was really really low Nick Kyrgios," Norman wrote on Twitter. "Hope for u that u have people around that will teach u a thing or 2 about life tonight. Very bad."
At Wimbledon last month, Kyrgios was booed by spectators in a fourth-round loss to Richard Gasquet of France. Kyrgios appeared to make little attempt to return Gasquet's serve during the third game of the second set after a dispute with the chair umpire.
Kyrgios, who was born in Australia to a father born in Greece and mother born in Malaysia, replied on Twitter that Fraser was a "blatant racist." She later apologised.