Olympian Dawn Fraser has "unreservedly apologised" over comments she made on live television about Australian tennis star Nick Kyrgois, which he slammed as being "blatantly racist".
Fraser, a four-time gold medallist, told Australia's Today Show on Tuesday that Kyrgois and fellow Davis Cup teammate Bernard Tomic should "go back to where their parents came from", after being asked about their behaviour at Wimbledon.
Kyrgois was accused of "tanking" during his defeat by Richard Gasquet on Monday and of making no effort to return service during the third game of the second set. The performance followed a week of run-ins with umpires including one incident where he was accused of referring to an official as "dirty scum".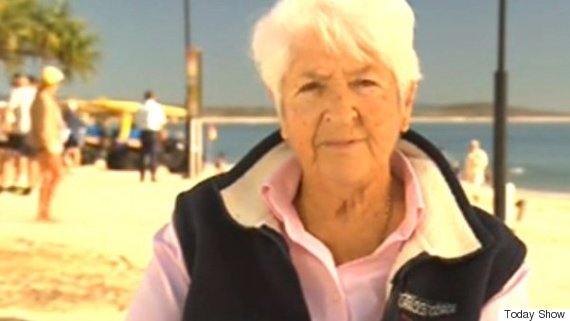 Dawn Fraser on Australia's Today Show where she was accused of making "racist" remarks about tennis players Nick Kyrgois and fellow Davis Cup teammate Bernard Tomic
On his Facebook page Kyrgios - who has born in Australia to Greek and Malaysian parents - branded Fraser, 77, a "blatant racist". He also repeated the comments on Twitter.
Throwing a racket, brat. Debating the rules, disrespectful. Frustrated when competing, spoilt. Showing emotion,... http://t.co/QDvnaUNYxZ

— Nicholas Kyrgios (@NickKyrgios) July 7, 2015
Former swimming star Fraser has since issued a lengthly apology.
She said: "I want to unreservedly apologise for any comments that I made this morning which may have caused offence to my fellow Australians including Nick and his family."
Fraser went on to say the live-to-air clip was part of a larger interview that was not broadcast, but admitted "this does not condone what was said".
She added: "Australians have a rich sporting heritage made up of individuals from a variety of different countries of origin.
"My intended message, which was not delivered as articulately as it could have been, was on a purely sporting level rather than meant as an attack on Nick's ethnicity.
"Nick's representing Australia and I want to see him representing Australian tennis in the best possible light."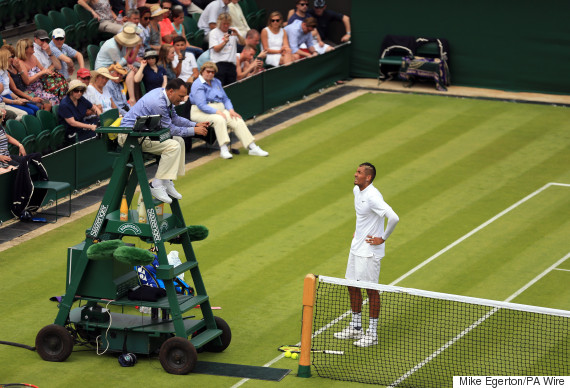 Nick Kyrgois had several run-ins with umpires during Wimbledon, one of which is seen above
Fraser said representing your country "is the highest accolade" for an athlete, and is a "privilege and an honour" which needs to be taken seriously.
She said: "Not only do you represent yourself, your team, your fans and your family but you are representing the heritage of the competition and acting as a role model for young Australians."
Story continues below
Fraser, who won the 100 metres freestyle at three successive Olympics, made the controversial remarks after being asked by Today Show host Karl Stefanovic, as "one of Australia's most respected sporting icons" what her "take" on Kyrgios behaviour was.
Fraser said it was "absolutely disgusting" and went on to say the player needed to set a better example for the "younger generation of this great country of ours".
She then added: "If they don't like it, go back to where their fathers or parents came from.
"We don't need them in this country if they act like that."
On social media, Kyrgios mother Nill, said Fraser was "out of line" for her "nasty racist remarks".
I have no comments on Dawn Frasers nasty racist attack...but she is out of line. #unaustralianbehaviour

— nill kyrgios (@nillkyrgios) July 7, 2015
But others were aghast that neither host challenged Fraser for her comments:
#DawnFraser can't believe @TheTodayShow did not intervene or object to the comments. To make comments like this is #unaustralian

— Loushen Govender (@loushengovender) July 7, 2015
Australia's Race Discrimination Commissioner Tim Soutphommasane also entered the debate:
VIDEO: Race Discrimination Commissioner @timsout says Dawn Fraser view on Nick Kyrgios is not reflective of society http://t.co/NDOijJBsdJ

— ABC News 24 (@ABCNews24) July 7, 2015
During his defeat against Gasquet, Kyrgios, 20, hugged a ballboy, in a game that was far more memorable for his bizarre behaviour than his performance.
Kyrgios hugging the ballboy. And the ballboy's reaction is just PERFECT. pic.twitter.com/taPEwvrOrR

— René Denfeld (@Renestance) July 6, 2015
He also added to the string of verbal warnings he had received during the tournament. Kyrgios was warned by umpire James Keothavong for an "audible obscenity", which he responded to with ironic applause.
The Australian lost the match 7-5 6-1 6-7 (7-9) 7-6 (8-6).
Nick Kyrgios appears to have completely given up at #Wimbledon http://t.co/6ty9jwUGFt https://t.co/iSiiqqUt2z

— i100 (@thei100) July 6, 2015
Last Monday he appeared to call umpire Mohamed Lahyani "dirty scum" before quickly backtracking and saying he was referring to himself.
And Wednesday saw him rant at Ali Nili, first asking if he was threatening him and continuing: "Does it feel good to be in the chair up there? Does it feel strong to be up there?"
During his third round match against Canadian Milos Raonic, Kyrgios threw his racquet at the ground so hard that it bounced up into the stand.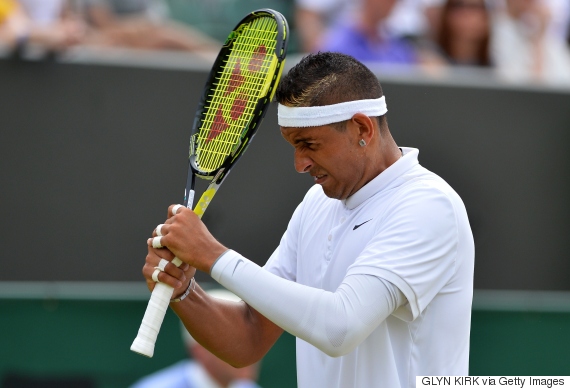 You okay there mate?
Luckily for him, a member of the crowd was kind enough to retrieve it.
He also fell foul of the famously strict dress code at SW19 by wearing a Wimbledon-branded headband with purple and stripes (only white is permitted on court).
To avoid further trouble, he continued to wear the band but turned it inside out.
"Is that a threat? Does it feel good to be in the chair?" @NickKyrgios to @Wimbledon umpire http://t.co/aXWXNh4Lud https://t.co/IapsvPfPhE

— ABC News (@abcnews) July 1, 2015
He continued to add to the list of misdemeanours when he received a thorough telling-off from Wimbledon officials for climbing onto a fence to watch fellow Aussie Lleyton Hewitt playing doubles on court 14.
Wearing hot pink headphones, Kyrgios could be seen peering over the wall - strictly prohibited in case it distracts players.
He was ordered down by security personnel but, true to form, promptly climbed back up as soon as they left.
SEE MORE:

Nick Kyrgios Vs Richard Gasquet At Wimbledon Sees Australian Reach New Level Of Bizarre Behaviour