On Thursday, NASA successfully tested an engine for the world's most powerful rocket that could take us to Mars one day.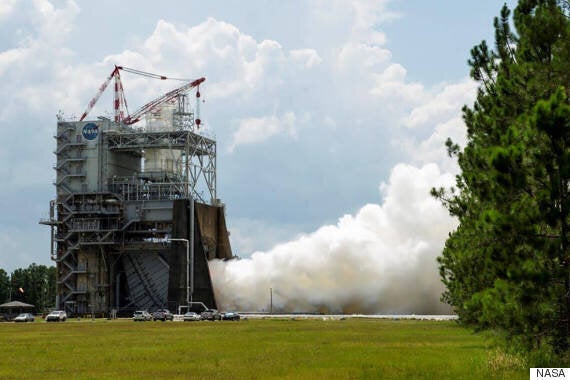 The RS-25 engine will be one of four that propels the Space Launch System (SLS), designed to carry the Orion spacecraft to Mars.
This was the engine's penultimate test, and it lasted all of 535 seconds.
SLS is due to be completed in 2018 and if successful, it will be one of the most powerful rockets in the world that will further deep space exploration.
However, the rocket owes its revolutionary power to the R-25 engine, which NASA describes as an invention that makes a "modern race car or jet engine look like a wind-up toy."
Kathryn Crowe, a propulsion engineer, referred to the R-25 as the "the Ferrari of rocket engines."
In an interview with cnet, she said:
"It is the most complicated rocket engine out there on the market, but that's because it's the Ferrari of rocket engines.
"When you're looking at designing a rocket engine, there are several different ways you can optimise it.
"You can optimise it through increasing its thrust, increasing the weight to thrust ratio, or increasing its overall efficiency and how it consumes your propellant. With this engine, they maximised all three."
You can watch the full test video here:
Related