This is the moment a deadly blast caused havoc in a rush hour explosion in a bustling tourist area in Bangkok, Thailand.
CCTV footage has captured the terrifying scenes, which are believed to have claimed the lives of up to 22 people and left 120 wounded.
The incident took place at the Rajprasong intersection and appears to have occurred in front of the Erawan Shrine, a landmark also popular with Thais.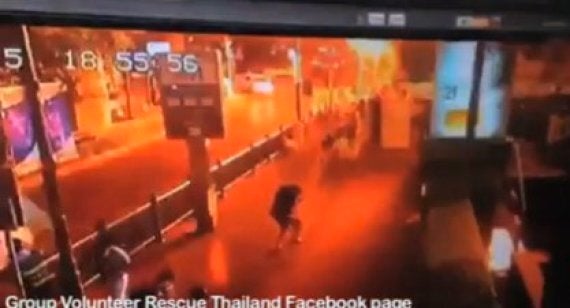 The entire scene turned orange as the blast took over the streets
The video shows the dramatic moments before and after the attack, with the blast seen igniting in a flash of orange light as civilians run for safety and their lives.
The cause of the explosion is still unknown and Deputy national police chief Aek Angsananond told Reuters: "All I can say now is there has been an explosion in central Bangkok involving a motorcycle bomb."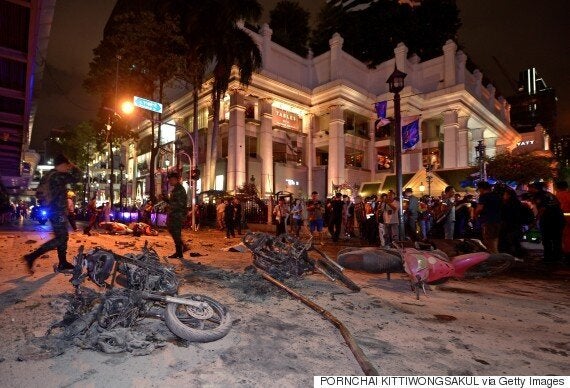 Thai soldiers inspect the scene after a bomb exploded outside a religious shrine in central Bangkok late on August 17, 2015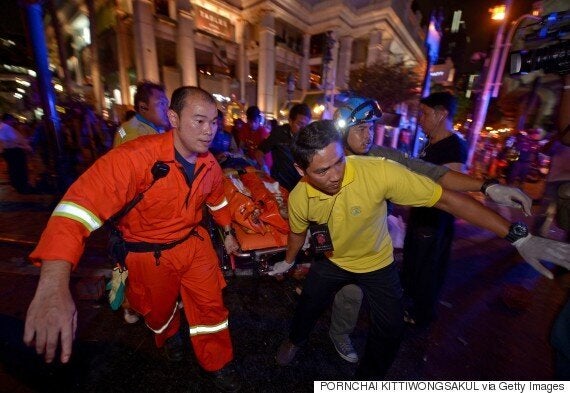 Thai rescue workers carry an injured person after a bomb exploded outside a religious shrine in central Bangkok
The Erawan Shrine is dedicated to the Hindu god Brahma, but is also visited by thousands of Buddhists each day.
"I saw more than five bodies inside of the Shrine," a unidentified witness told Steve Herman, reporting from the scene on live streaming app Periscope, "I've never seen anything like this in Bangkok before," he said.
Early reports on Twitter are indicating that most of the casualties are foreign tourists:
It's unknown who carried out the attack and Thailand's capital has been relatively peaceful since a military coup ousted a civilian government in May last year.
There has been some tension in recent months as the ruling party have made clear it may not hold elections until 2017.
They also want a constitution that will allow some type of emergency rule to take the place of an elected government.
Related