Donald Trump, the billionaire businessman, playboy and owner of an eponymous empire, has confirmed that he is in fact 'Batman', a billionaire businessman, playboy and owner of an eponymous empire.
Trump was forced to make the confession after raising the suspicions of a group of children treated to a short trip in his luxury helicopter.
Having flown into the Iowa State Fair on Sunday for a stunt as part of his campaign for the Republican Party's nomination for president, Trump used his transportation to his advantage.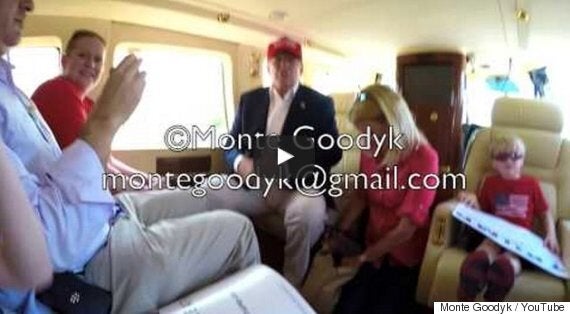 A screenshot from since removed video aboard Trump's helicopter
He gathered large groups of children to ride alongside their parents in his luxury chopper.
During one such trip, a boy holding a Go Pro camera interrogated Trump as to his true identity, asking the question professional journalists on the campaign trail have been only too afraid to ask.
"Mr. Trump," he said, aiming the camera at his benefactor.

"Yes," Trump said, pulling on the lapels of his jacket.

"Are you Batman?" the boy asked.

"I am Batman," Trump said.
Fearless 9-year-old William Bowman had chanced upon Trump while his family visited the huge fair held near De Moines, Iowa's state capital.
He followed his brothers and his mother into the helicopter, and was soon using his discreet camera to get to the real truth.
And the comfortable surrounds of his multi million-dollar helicopter seem to have put Trump/Batman/Wayne at ease.
Video of the encounter was initially posted to Facebook, but has since been removed, CNN reported.
But as Trump picks up momentum, we can expect many more shocking revelations out of his campaign.
For now, perhaps it's worth remembering that it's not what Trump is underneath, but what he does which defines him…