A quick scroll through Brooklyn's photos proves he's got the big brother role down to a T.
1. Teaching essential life skills.
The most recent sibling shot is a black and white photo of 16-year-old Brooklyn and his little sister Harper in the kitchen. He uploaded the photo on Instagram and wrote: "Making pizza with my little sister".
2. Stopping to rest when little legs are tired.
Keeping with the black and white trend, Brooklyn uploaded this photo back in July showing him spending a day outside with his sister. He wrote: "Fun hiking with my baby sis".
3. Supporting his brothers.
Romeo ran the children's three-mile course during the London marathon in April 2015.
There for support and to congratulate his brother at the finish line, Brooklyn uploaded a snap with his arm wrapped around Romeo. He wrote: "Congratulations Romeo for raising £8,000 for UNAIDS and 7 Fund!"
Oh, and not forgetting a T-shirt printed with "Team Romeo" on the front, too.
4. Following in dad's footsteps.
David Beckham uploaded a sweet shot of Harper getting ready to kick a football into the net in front of her.
But he was quick to show it wasn't just him giving the lessons. Beckham captioned the photo: "Mia Hamm eat your heart out ⚽️⚽️ Harper Seven taking lessons from her brothers (oh and her dad) ❤️"
5. Teaching Harper how to ride a bike.
In this photo uploaded by Beckham in June, Brooklyn can be seen walking alongside Harper while she begins to ride her bike without stabilisers.
Holding gently onto the back of the seat, she seems to be balanced well while riding in their back garden. Quality sibling bonding at its best.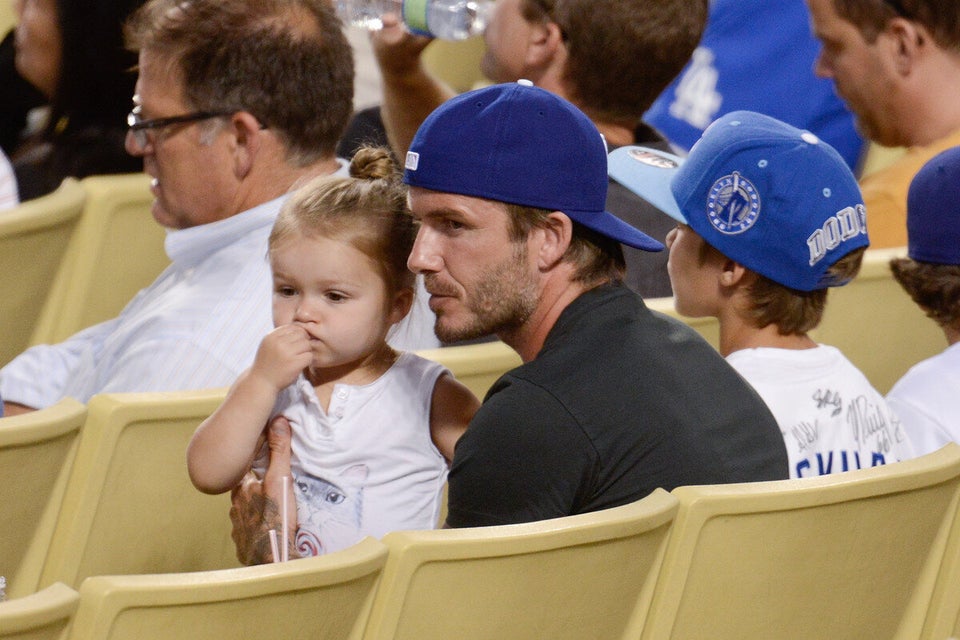 David And Harper Beckham