Macedonian forces have fired stun grenades and tear gas at a group of migrants trying to enter the country from Greece.
At least eight people were believed to have been injured as the military tried to disperse around 3,000 migrants on the border, the day after Macedonia declared a state of emergency to deal with an influx of migrants heading north through Europe.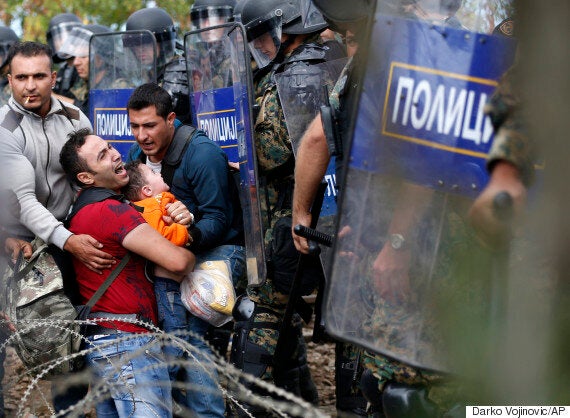 A man holding a child is caught between the crowd and police (above) while a man injured in the incident is carried away (below)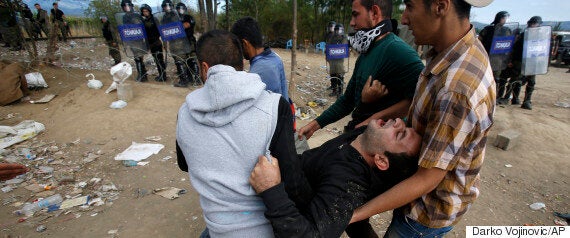 One refugee told Reuters: "They shoot us today, they shoot us today, I can tell you, I see it. We was in front of the place. Officer people, they… Officer people in Macedonia, they shoot the people."
Doctors Without Borders, who are treating people at the scene, said shrapnel from the stun grenades had injured people, adding: "Tensions are high."
"I don't know why are they doing this to us," said Mohammad Wahid, an Iraqi. "I don't have passport or identity documents. I cannot return and have nowhere to go. I will stay here till the end."
Story continues beneath pictures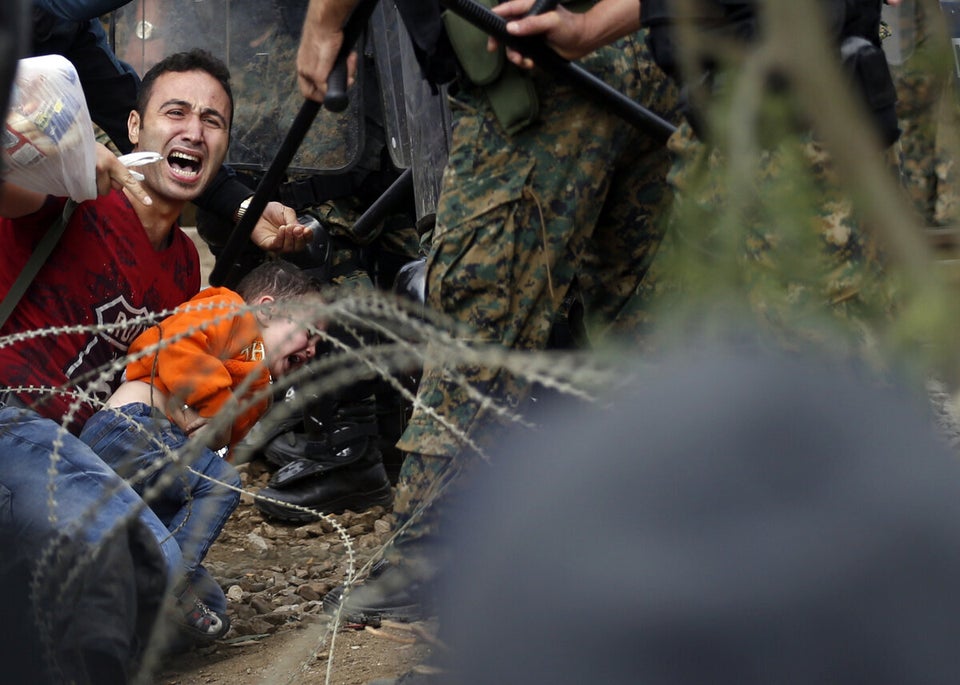 Migrants Gassed On Greek Macedonian border
The crowd had spent several attempts earlier in the day to charge Macedonian police after the border was shut to crossings on Thursday.
They were waiting to try and cross the border near the border train station of Idomeni, northern Greece when they were fired upon.
The migrants, many with babies and young children, had spent the chilly and windy night in a dust field without food and with little water. Some ate corn they picked from nearby fields.
Macedonian police said both they and the army would control the 30-mile border stretch to stop a "massive" influx of migrants coming from Greece.
"This measure is being introduced for the security of citizens who live in the border areas and for better treatment of the migrants," he said on Thursday.
Police backed by armoured vehicles also spread coils of razor wire over rail tracks used by migrants to cross on foot from Greece to Macedonia.
Sealing the border disrupts the Balkan corridor for migrants who travel Turkey, take boats to Greece or walk to Bulgaria, then make their way through Macedonia or Serbia heading north to the EU.