A mum has gone to extreme lengths to make sure her son behaves himself while she's away on holiday.
The son in question is 27 years old.
Martyn Hett, from Stockport, Greater Manchester, is house-sitting while his mum, Figen Murray, is on holiday in Turkey.
He found a grand total of 13 notes from his mum dotted around the house, instructing him on everything from when to water the plants, to warning him to "be careful with the cat".
Hett posted an image of the notes he'd collected to Facebook, much to the amusement of his friends - and the rest of the internet.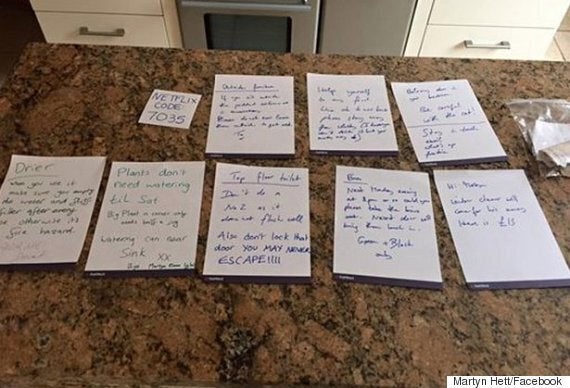 One particular gem advises Hett not to do any "number twos" in the upstairs bathroom, as the flush is a bit weak.
"Also don't lock that door, you may never escape," it adds.
Hett has said this isn't the first time his mum has left him precise instructions for looking after the house while she's away.
Martyn, pictured with stepdad Stuart and mum Figen
Hett admitted that he had parties when he looked after his mum's house in the past, but these days he's a "responsible adult" who has a flat of his own.
He added: "I'd ignore the notes when I was younger but I generally obey them these days. The strangest thing is the way she'll stick a Post-It to an object and then write the message as though it's from the object itself.
"On the shower door it'll read: 'Please don't use me, use my much better buddy downstairs' or something. It's just my mum all over."