An MP has said she didn't know whether to "laugh or cry" at a sexist letter that told her off for, basically, appearing on television while having breasts.
Labour's Alison McGovern, Shadow City Minister, received the letter castigating her for "so obviously" showing her cleavage when she appeared on Channel 4 News in June, opposite Conservative MP Kwasi Kwarteng, to discuss George Osborne's proposed bill obliging governments to run a surplus on their budgets while the economy was booming.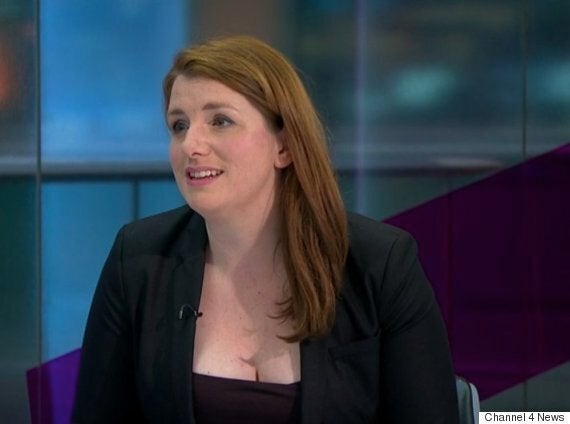 Alison McGovern on Channel 4 News
She tweeted it last night with people who were discussing a controversial item in The Spectator that discussed the appearance of Liz Kendall and Yvette Cooper and how it would affect their chances in the Labour leadership race.
She said she did not know whether to "laugh or cry" at the "same old, same old" letter.
The author, J.G. Hunter, said Ms McGovern was "deliberately trying to attract attention," which is, when you think about it, what all politicians do.
"As a Labour member might I say that your prominent cleavage distracted your male observers from hearing what you were saying," the letter said.
"Indeed as an experienced women politician (sic), I found this strategy - hardly accidental - for someone of your age and experience difficult to comprehend."
J.G Hunter cryptically concluded: "This is not a complaint however, merely an observation, I'm sure your PR people will have advised you on your attire."
The less-than-legible signature has left The Huffington Post UK unsure whether the correspondent is a man or a woman.
Former home secretary Jacqui Smith was among those to tweet her support to McGovern in response to the letter, saying she had "been there, done that, taken the crap" in her own time as a politician.
McGovern said she would have "got absolutely nowhere" without the work of women like Smith.
During her Channel 4 appearance, McGovern said Osborne's proposal had "hallmarks of a distraction tactic".
She added: "One of my frustrations is that Osborne said he would close the deficit gap in one parliament. He failed to do so.
"All of this political chicanery is designed to distract from his failures as a chancellor."
So there, J. G. Hunter, we were listening to what she said.
Popular in the Community