A British man and three Americans have been awarded France's highest honor, the Légion d'honneur by the president, Francois Hollande for their roles in stopping a suspected terrorist attack on a train.
Chris Norman, a grandfather, helped subdue suspected Moroccan jihadist Ayoub El-Khazzani who was armed with an AK-47 on a train from Amsterdam to Paris, on Friday.
Norman, alongside US Air Force serviceman Spencer Stone, National Guardsman Alek Skarlatos and Sacramento State University student Anthony Sadler, will be made chevaliers of the Legion.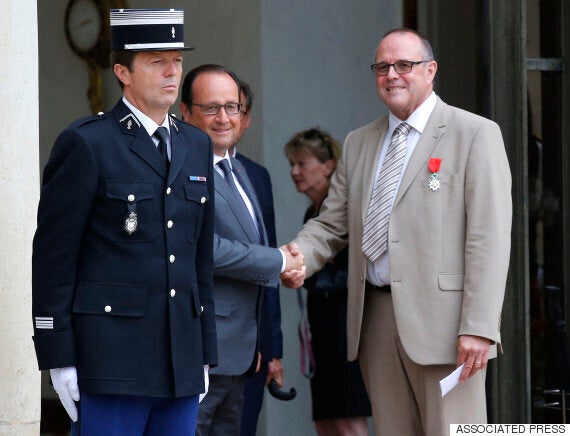 France's President Francois Hollande, left, bits farwell to British businessman, Chris Norman, at the Elysee Palace in Paris, France, after being awarded with the French Legion of Honor
A French citizen, who has wished to remain anonymous, was also awarded and was the first to come across the gunman near a toilet on board.
Norman, who lives in France, was facing towards the back of the train when he heard "glass breaking and then saw somebody running down the aisle to the front of the train".
He told reporters: "My first reaction was to sit down and hide. Then I heard one guy, an American say 'go get him'. Then I heard another American say 'don't you do that buddy' or something like that.
"Then I decided that perhaps this was the only chance for us to act as a team and try to take over."
Spanish law enforcement told their French counterparts in March 2014 that El-Khazzani had a "relationship with radical Islam", the Spanish El Pais newspaper reported.
Officials told the Associated Press that El-Khazzani was on the radar of authorities in France, Belgium and Spain.