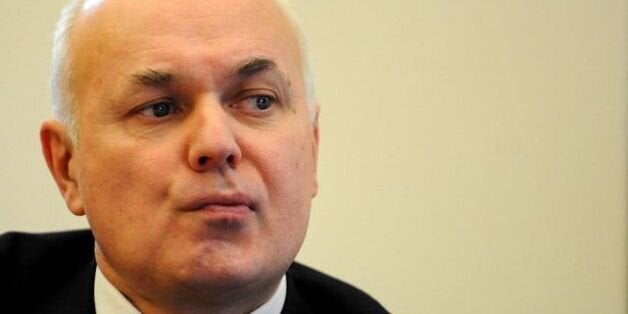 Iain Duncan Smith has been accused of launching a "new attack on disabled people" after announcing plans for a benefits shakeup to get more people off benefits and into jobs.
The Work and Pensions Secretary said sickness benefits assessments need overhauling and argued there needs to be more support for people with "common" mental illnesses to get them into work as he contended work is "good for your health".
And he hit out at the "scaremongering" from critics of his welfare reforms, arguing the vulnerable are protected.
A preview of his speech has condemned by Labour leadership hopeful Andy Burnham, who said the Cabinet minister was "preparing a new attack on disabled people to cover for his own failures on social security".
He said: "Talk of cutting support for people who are simply not able to work will strike fear into the hearts of many vulnerable people.
"The cruel and crude approach of the Tories has already driven many people to despair and this new drive will cause even more anxiety."
Mr Duncan Smith hailed two million more people being in work and the number of workless households falling to a record low, but that the Government "must not stop there".
"We need to be relentless in our efforts to get more people into work and off welfare," he said.
He added: "There is one area on which I believe we haven't focused on enough – how work is good for your health.
"Work can help keep people healthy as well as help promote recovery if someone falls ill. So, it is right that we look at how the system supports people who are sick and helps them into work."
He singled out the system that hands out the employment and support allowance (ESA), which was introduced under Labour and is given to people with long-term illnesses or disabilities.
He will say: "ESA may have been designed with the right intentions, but at its heart lay a fundamental flaw. It is a system that decides that you are either capable of work or you are not.
"Two absolutes equating to one perverse incentive – a person has to be incapable of all work or available for all work.
"This needs to change - things are rarely that simplistic."
He also highlighted how around a quarter of people on the unemployment benefit Jobseekers Allowance are suffering from a "common mental health condition", and need more help to get back into work.
"Nearly 11 million adults in the UK have a common mental health condition….and people are much more likely to fall out of work if they do," he said.
"We also know that being out of work for four weeks or more can actually effect people's mental health, even if the original reason for ill health was a physical one."
He also committed to reduce the "disability employment gap" - the difference between the employment rate for disabled and non-disabled people - and called on employers to help prevent people falling out of work.
Of his critics, he said: "It is right that we protect these most vulnerable people in our society. That support is there.
"For despite the scaremongering, it is worth reflecting on the fact that we in this country spend more on sick and disabled people than the OECD average."