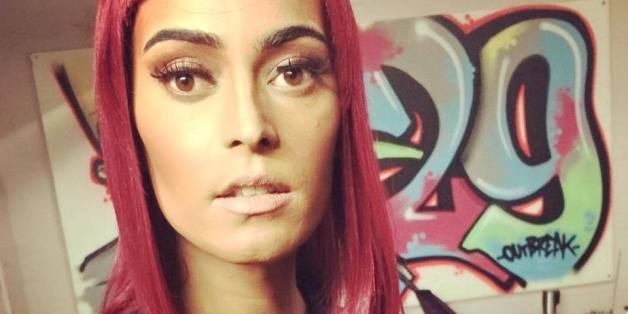 Asifa Lahore Facebook
One of the subjects of Channel 4's groundbreaking documentary, Muslim Drag Queens, has tweeted that he and his family are 'happy and safe' after being on the receiving end of thousands of hateful tweets.
Asifa Lahore came under fire when Twitter trolls came out in full force on Monday night when the programme was aired.
The #MuslimDragQueens hashtag experienced an onslaught of homophobic remarks about the show, some of which can be seen in the following tweet:
A display of empathy and understanding from young British Muslims.

#muslimdragqueens pic.twitter.com/5snHvayym5

— native informant (@trigofthedump) August 25, 2015
Lahore sent out messages of positivity and support, insisting that he was safe.
Thank you for the overwhelming love and support. My family and I are happy and safe. Proud to be a #MuslimDragQueen

— Asifa Lahore (@AsifaLahore) August 24, 2015
While homophobia was rife on Twitter, there was also a huge outpouring of acceptance on the #MuslimDragQueens hashtag...
Gay, Muslim drag queens don't make Islam look bad. Ignorance, hated and intolerance towards them makes Islam look bad. #MuslimDragQueens

— dvp (@dpotterdotcom) August 25, 2015
I hope homophobia & sexism dies with the older Muslim generation & our generation can be whoever they are born to be #MuslimDragQueens

— Stephanie O'Donnell (@stephanie_TT94) August 25, 2015
So much love and support for all involved in #MuslimDragQueens xx

— Becky Bedbug (@BeckyBedbug) August 24, 2015
You don't have to agree with #MuslimDragQueens, but you have no right to spurt hatred. It does not have ANY impact on your life.

— Tahmeena Alam (@tahmeenaalam) August 24, 2015
It's rare to see anything truly groundbreaking on TV these days, but #MuslimDragQueens is such an important piece of television. @Channel4

— WayneDavid (@WayneDavid81) August 24, 2015
Huge respect to all the participants of #MuslimDragQueens. Courage, dignity, determination, love. We can all learn from this.

— Patrick Strudwick (@PatrickStrud) August 24, 2015
Prior to the documentary airing, Lahore expressed fears about the potential backlash, especially after receiving death threats last year.
Speaking to HuffPost UK Entertainment, he said: "There are certain things that have been put in place for my safety." Before adding that the police are always very "supportive".
A spokesperson for Channel 4 told HuffPost UK Lifestyle that: "the contributors agreed to take part after extensive discussions about what appearing in the programme would involve and how much this would likely elevate their profiles.
"They wanted to speak out in this documentary to challenge the negative views and preconceptions held by many in their own wider communities and they courageously agreed to do this despite knowing it would likely provoke further unpleasant criticism.
"They have all viewed the final film and fully support its broadcast.
"The filmmakers took great care not to identify the home addresses of the contributors in the film. They remain in constant contact with the contributors and their support networks.
"Asif has contacted the police officers who dealt with the death threat he received previously (featured in the documentary) to make them aware of the upcoming broadcast, and is following their protocols."