The bodybuilder turned actor has, at various times, earned the tags of 'Greatest Living Scot' and 'Scotland's Greatest Living National Treasure'. At the age of 59 in 1989, People Magazine made him their 'Sexiest Man Alive' and ten years later, he was voted 'Sexiest Man of the Century'.
So far, so beefcake. But there's always been more to this gentleman as quick with his words as with his fists... to mark his special birthday, we bring you 85 surprise facts about the man born to play Bond, but who has always had a complicated relationship with his alter ego of seven films, once saying of 007, "I'd like to kill him."
Sean Connery has 92 actor credits, 9 producer credits and one director credit
Connery was born in Fountainbridge in Scotland, and since then has created his own film production company that shares a name with his place of birth, Fountainbridge Films
Born Thomas Sean Connery, he later decided to go by Shane Connery which eventually evolved into the legendary name Sean Connery
When he was born his parents could not afford a cot for him and so he was placed in the bottom drawer of their bedroom wardrobe
His mother was a laundress and his father was a lorry driver and factory worker
As a child he would fish in the Union Canal using his mum's old nylon stockings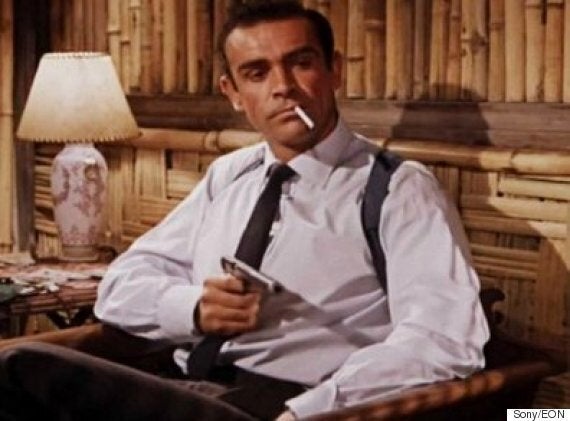 Sean Connery played James Bond in seven films altogether - to many, he remains the archetype
Connery came from a very under-privileged background, but he never seemed to let that faze him
Sean dropped out of school at the age of 13 and went on to have an array of jobs including delivering milk by horse and cart, working at a butcher's shop and an evening paper round
Sean Connery resumed his education when he began to struggle with his finances, saying he would rather have had a grasp on it all than let someone else do it all for him
He served in the Royal Navy from 1947 – 1950
Whilst in the Navy he decided to get two tattoos on his arms; one that says 'Scotland Forever' and the other 'Mum and Dad'
Sean had to leave the Royal Navy due to being diagnosed with painful stomach ulcers
After the Navy he took on odd-jobs: polishing coffins, delivering coal, working in the machine room of a newspaper, posing nude for art students and even a brief stint as a lifeguard
Much later, he co-founded the Scottish International Education Trust, which provides grants to Scottish students
Connery donated all of the money made from 'Robin Hood: Prince of Thieves' to charity and when he was offered a huge sum to return as James Bond for 'Diamonds Are Forever' Connery decided to donate all his earnings to his Scottish charity
Connery, at nearly 60 years of age, was voted People Magazine's 'Sexiest Man Alive'
In 1999 he was voted 'Sexiest Man of the Century' by People magazine (they clearly couldn't get enough of him)
In 1995 Connery was ranked at number 7 in Empire magazine's 100 sexiest stars in film history (this man is extremely popular with the ladies)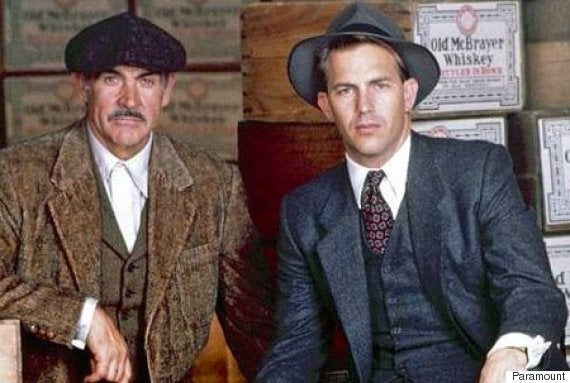 Sean won an Oscar for 'The Untouchables' in 1987, also starring Kevin Costner
He was ranked first amongst the Male British movie actors in the Orange Film Survey
He was voted the 24th Greatest Movie Star of all time by Entertainment Weekly
He was voted Best British Actor of all time in a 2005 poll for Sky TV
His performance as James Bond in the 007 films is ranked number 5 on Premiere magazine's 100 Greatest Movie Characters of All Time
On the down side, a poll by Empire magazine found that he created the worst accent in the history of cinema in 'The Untouchables'
Back in the day - 1953 - Sean entered the Mr. Universe contest, finishing third in the tall man's division
It was whilst entering the Mr Universe competition in 1953 in London that Connery's career started to shape itself; he learned that there were parts available in the chorus line for South Pacific at the Drury Lane Theatre and decided to perform on stage
Whilst filming 'Another Time, Another Place' (his first major film) Connery was held at gunpoint by his co-star Lana Turner's jealous boyfriend, Johnny Stompanato, who was believed to be part of the Mafia
Sean Connery went into hiding after receiving a note from Micky Cohen, friend of Stompanato, saying "Get out of town or a contract will put on your life"
He suffered another near-death experience whilst filming From Russia with Love due to an inexperienced helicopter pilot flying in too close and almost decapitating him
Connery turned down a breakthrough role in 'El Cid' to be near his wife, Diane Cilento after she contracted tuberculosis, but in fact this was a blessing in disguise as 20th Century Fox offered him several Hollywood film contracts which eventually ended with him becoming Bond
Connery and his first wife, Diane Cilento, would climb into a coffin lined with zinc every morning claiming that it helped concentrate their energies
Ian Fleming, the author of James Bond, did not originally believe that Sean was best suited to the role of James Bond as he seemed too 'unrefined', however he then admitted that Connery was 'ideally cast in the role'
Connery snagged the role of James Bond due not to his actual audition but when those that auditioned him watched him leave the room - his sexually charged 'panther-like' strut landed him the role of a lifetime
He was the very first James Bond, Agent 007, and played him for five consecutive films in the series
Prior to filming his first Bond film, 'Dr No', the director (Terence Young) wanted to get Connery less rugged and more suave; therefore he bought Connery an expensive, tailored suit and spent a whole week gambling, drinking and partying with him
He wore a toupee in all his James Bond movies as he started to lose his hair at the age of 21
Connery believed that Pierce Brosnan and Daniel Craig were both good fits for the role of James Bond, whilst he wasn't Timothy Dalton's biggest fan
Of the six actors who have played Bond so far Connery is the only one who has actually served in the Navy just like James Bond did
The reason he resigned from being James Bond was because he was fed up with all the special effects, the repetitive plot line and the public's ever growing obsession
His favourite Bond film is 1963's 'From Russia With Love'
The film that helped Connery to break away from the James Bond mould was 1975's 'The Man Who Would Be King'
Connery has been swapping lawsuits for years with Dr Sultan who owns the bottom four floors of the building Connery lives in - Dr Sultan claimed that Connery was trying to force him out of the building with loud music and noisy renovations
Money is one of the biggest driving forces in Connery's life and is the reason for some of the fall-outs he has had with some powerful people in the industry
Connery dated the ex-Labour Party leader Michael Foot's daughter for a short period of time
Connery shares a birthday with the likes of Tim Burton, Billy Ray Cyrus, Claudia Schiffer and Blake Lively
He is a major contributor to the Scottish National Party (SNP)
Connery refuses to return to Scotland until it has become independent, which he believes could happen in his lifetime still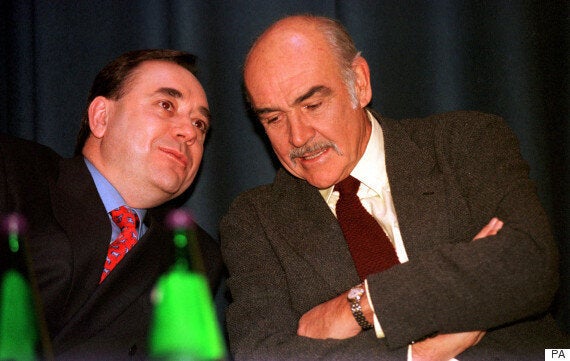 Sean is a proud Scot - here with former SNP leader Alex Salmond
The Labour government blocked Connery's knighthood twice due to his affiliation with the Scottish National Party but he was eventually awarded it in 2000 by Queen Elizabeth II
Connery states that if there was one film that would pull him out of retirement it would be an Indiana Jones film, however, retirement is too much fun at the moment for him to be thinking about work
He used to live in Marbella, Spain, next to a golf course that he frequented daily when he wasn't working, but due to long-lasting issues with the press he moved to the Bahamas
Both Sean and his son Jason Connery have played Robin Hood
Jason then went on to play Ian Fleming in 1990's 'The Secret Life of Ian Fleming'
He was offered the chance to play for Manchester United but turned it down as it seemed even more 'precarious a career'
Connery supports Celtic Football club
Steven Seagal broke Connery's wrist during a martial arts lesson for 1983's 'Never Say Never Again'
Several films feature characters doing impressions of Sean Connery: Mel Gibson in 'What Women Want', Ewan McGregor and Jonny Lee Miller in 'Trainspotting', Leonardo DiCaprio in 'Catch Me If You Can', Peta Wilson in 'The League of Extraordinary Gentlemen', Tom Hanks in 'Bachelor Party', Robin Williams in 'Mrs. Doubtfire'… the list goes on...
He won an Academy Award for Best Supporting Actor for his role as a Chicago cop in 1987's 'The Untouchables'
In 1998 he received a Tony Award for co-producing the play 'Art' by Yasmina Reza
Connery was the recipient of 22nd Annual Kennedy Centre Honours for lifetime contribution to arts and culture, presented by President Bill Clinton in Washington, D.C. on December 5, 1999
He received the American Film Institute's Lifetime Achievement Award in 2006
Connery is the only James Bond actor to have won Oscar
The Oscar he won for 'The Untouchables' resides with his son in New York
He is the last surviving cast member from 1959's 'Darby O'Gill and the Little People'
He took dancing lessons for 11 years and his teacher was Swedish dancer Yat Malmgren
Co-star Tippi Hedren named one of her cats after Sean Connery - that's how much she loved him
Connery's original idol was Welsh actor Stanley Baker because he played believable tough guys in quality British movies which he produced himself
He played Dustin Hoffman's father in 1986's 'Family Business' even though he is only seven years his senior – there are brothers and sisters who have bigger age gaps!
He met his second wife Micheline Roquenbrune at a golf tournament in Morocco where he won the men's award and she the women's
He was once papped whilst using a urinal
He is an enthusiastic poet, however he does not let anyone view his work
Connery underwent surgery to remove a tumour from his kidney in 2006
As well as the tumour in his kidney he also underwent radiation therapy earlier in his life for an undisclosed throat ailment
One of his biggest regrets is turning down the lead role in 'The Thomas Crown Affair' which, when it was remade, had Pierce Brosnan acting out the main role. At least one Bond managed to make it into the film…
He was considered for the role of Captain Von Trapp in 1965's 'The Sound of Music'
The role of the King of the Moon in 1988's 'The Adventures of Baron Muchhausen' was intended for Sean Connery until the role was largely cut. Connery didn't think it was good enough, and the role was played by Robin Williams
After Terry Gilliam wrote that the part of King Agamemnon in 'Time Bandits' would look "exactly like Sean Connery", Sean found out and asked to be in the film
He turned down $5.5m to play Bond in 'Live And Let Die'
He turned down the opportunity to play Gandalf in 'Lord of the Rings' because he didn't want to film in Australia for a prolonged amount of time
Alongside being asked to play Gandalf he was also offered 15% of the box office takings as well – which ended up being nearly 450 million dollars
Apparently he still has no regrets on turning down the role as he doesn't get the films, the script, or the books
He also turned down 'The Matrix' (twice) because he didn't understand it
Steven Spielberg once said: "There are seven genuine movie stars in the world today and Sean is one of them"
Connery, ironically, was once stopped for speeding by an officer named Sergeant James Bond
In America Connery's first role was as a porter in an episode of 'The Jack Benny Show'
Connery has worked alongside the likes of Sir Michael Caine, Christopher Plummer, Sir Laurence Olivier, Lauren Bacall, Vanessa Redgrave and Lord Richard Attenborough
Sean Connery turns 85 today, with Movies4Men are dedicating an entire evening to the great man.