A cameraman and a TV reporter were killed live on air on Wednesday morning with the gunman recording the murders on his phone. The video was then posted to social media. The suspect, a journalist who was fired from the TV station earlier this year, crashed his vehicle while trying to flee state troopers. He was found with a self-inflicted gunshot wound. Reports suggest the shooter later died in hospital.
Brian Moran, Virginia secretary of public safety, said the shooter was pronounced dead at the hospital at 1:26 pm, per state police.

— Jenna Portnoy (@jennaportnoy) August 26, 2015
Reporter Alison Parker and cameraman Adam Ward were filming a feature on tourism when shots were fired. Parker, 24, could be seen running before the camera dropped to the floor. "Oh my God," she shouted as she fell. Ward also fell, his camera capturing a fleeting image of the suspect holding a handgun.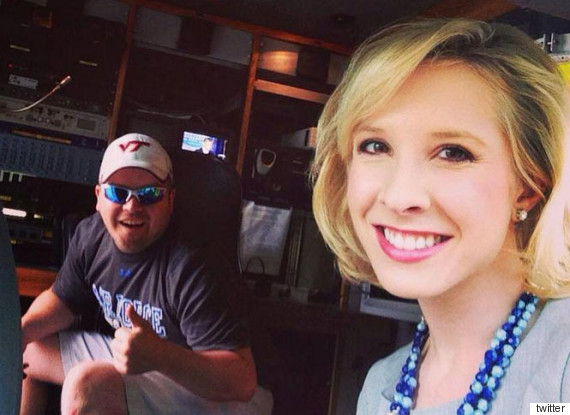 WDBJ switched back to the anchor at the station, her eyes large and jaw dropping as she said, "OK, not sure what happened there." The station later went live again, reporting on their own station and staff as the story developed.
The suspect was quickly identified as Vester Lee Flanagan II, 41, who appeared on WDBJ as Bryce Williams. WDBJ's general manager, Jeff Marks, said Flanagan had to be escorted by police out of the station when he was fired, describing him as "an unhappy man."
How Alison Parker & Adam Ward should be remembered instead of the horrific video [via New York Daily News] pic.twitter.com/KoNjJOqr7k

— Shawn Reynolds (@ShawnRTV6) August 26, 2015
"Eventually after many incidents of his anger... we dismissed him. He did not take that well," Marks explained. Video posted hours after the shooting on Bryce Williams' Twitter account and Facebook page showed an outstretched arm holding the handgun and firing repeatedly at Parker as she tried to run away.
The shooter appeared to walk up to the victims and stand a few feet away from them while holding the weapon. The three, in the midst of a live TV interview, do not seem to notice the gunman, who doesn't start shooting until Ward points the camera at Parker and her interview subject, Vicki Gardner, who was in stable condition after surgery for her wounds.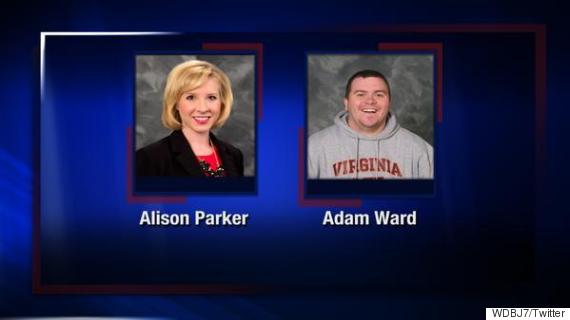 Parker is heard screaming and is seen running away as shots are fired. Roughly 15 shots can be heard, including several that were fired after the video goes dark.
Tweets posted on Williams' Twitter account Wednesday described workplace conflicts with both victims. They say Williams filed complaint with the Equal Employment Opportunity Commission against Parker, and that Ward had reported Williams to human resources.
We didn't share this publicly, but @AParkerWDBJ7 and I were very much in love. We just moved in together. I am numb. pic.twitter.com/tUrHVwAXcN

— Chris Hurst (@chrishurstwdbj) August 26, 2015
Marks said Williams alleged that other employees made racially tinged comments to him, but said his EEOC claim was dismissed and none of his allegations could be corroborated. "We think they were fabricated," Marks said.
Marks later spoke candidly about the shooter after it was revealed he was shot. "I'm stepping out of my role as a journalist here: I'm not really sure if I want him to live or die. If he dies, he takes the cowards way out. If he lives, he'll go to trial," he said. "I wanted to let that little bit of anger out, and that whole lot of love out, and thank you all for the professional way you have covered this story today," Marks added.
ABC News reported on its website that the network received a 23-page fax from someone claiming to be Williams. The network said the fax was turned over to authorities, and did not elaborate on its contents.
Both the victims were romantically involved with other employees at the station, according to Parker's boyfriend, WDBJ anchor Chris Hurst. He wrote online that they hadn't shared their relationship publicly but "were very much in love." He said they had just moved in together and wanted to get married. "I am numb," he said.
The shooting happened around 6:45 a.m. at Bridgewater Plaza in Franklin County, as Parker interviewed Gardner about the upcoming 50th anniversary festivities for Smith Mountain Lake, a local tourism destination.
ET has obtained the first statement from Alison Parker's family. In part: "This is senseless and our family is crushed."

— Elizabeth Applegate (@ApplegateTV) August 26, 2015
Ward, 27, graduated from Virginia Tech University and was engaged to a producer at the station, Melissa Ott, said WDBJ spokesman Mike Morgan. "Adam was our go-to guy. He pretty much was available to do anything that we asked," Morgan said. "He did live shots during our morning show for several years."
Parker had just turned 24 and had joined the station as an intern after attending James Madison University, where she was the editor of the school's newspaper, The Breeze. According to her Facebook page, Parker spent most of her life outside Martinsville, Virginia. She was an avid kayaker and attended community theater events in her spare time.
SEE ALSO:
The station is based in Roanoke, Virginia, and serves the southwest and central part of the state. The shootings happened at a mall just off Smith Mountain Lake in Moneta, about 25 miles southeast of Roanoke.