The young people being helped by Kids Company could "descend into savagery" and riot or loot if the charity closed, the charity claimed in an email to government.
BBC Newsnight and Buzzfeed News obtained a leaked email reportedly sent to the Cabinet Office by Alan Yentob, Kids Company's chairman of trustees, on June 2, ahead of the government's decision to award a £3 million grant.
The document, which the BBC said formed part of the case made by the charity in order to obtain the grant, also claimed there would be a high risk of "rioting and "looting" as communities served by Kids Company could "descend into savagery".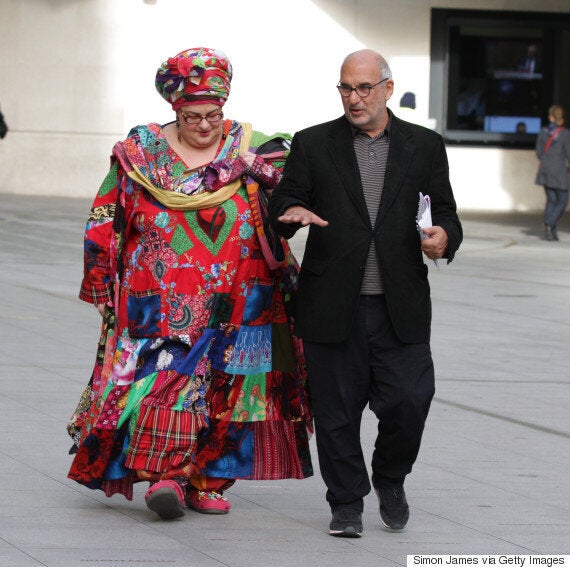 Alan Yentob outside the BBC with KidsCompany founder Camila Batmanghelidjh in January
Yentob, who is also the BBC's creative director, told the broadcaster the document was an appendix setting out the risks of the charity folding.
Kids Company closed on August 5 - amid allegations of financial mismanagement, drug taking and sexual abuse - and is now subject to a statutory inquiry by the Charity Commission.
A week before the charity's closure it was given the Government grant - against the advice of senior civil servants - that was partly used for salaries.
The document warned: "We have created a structure which acts as a substitute parent and extended family. The endings of these relationships will be therefore potentially equivalent to death of the primary care giver i.e. a mother, a father and/or the whole extended family within a biological familial structure.
"We are ... concerned that these children and families will be left without services in situations of sexual, psychological or emotional abuse, neglect and malnutrition and facing homelessness and further destitution.
"Without a functioning space for hope, positivity and genuine care, these communities will descend into savagery due to sheer desperation for basic needs to be met."
Mr Yentob said: "It's widely acknowledged that Kids Company has done vital work with vulnerable children and young adults. The document ... was an appendix written by the Safeguarding Team, who set out all the potential risks to be taken into account in the event of closure.
"Despite the support of local authorities, many of those who received support and refuge from Kids Company remain at risk. The welfare and safety of both the young people and the communities in which they live continues to be of great concern."
Meanwhile, children's charity Options4Change said it had been contacted by around 40 families who had used Kids Company and said it needed help to support them.
Its founder Donna Sinclair told Sky News: "We are dealing with families being broken up, parents not being able to feed their children, they don't even have basic travel expenses."