Surveillance video has emerged showing pedestrians waiting for a bus in China being swallowed by a sink hole after the pavement opened up beneath them.
Four pedestrians were standing in the Heilongjiang Province, in the northeast city of Harbin, on Saturday when the pavement gave way beneath them.
A fifth pedestrian, a woman, can be seen clinging to a steel structure as a section of the pavement became a gaping hole.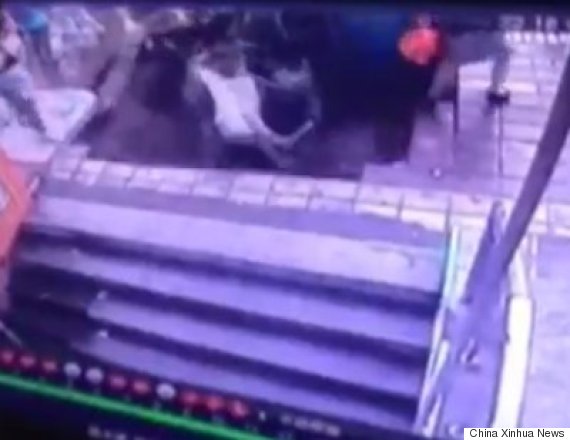 Four pedestrians were swallowed by a sink hole at they waited for a bus in China
Sinkhole opens near NE China bus stop, 4 people fall in #XinhuaTVpic.twitter.com/X77aAl2ixz

— China Xinhua News (@XHNews) August 26, 2015
The footage shows a group of bystanders attempting to rescue those trapped inside and after a few minutes they manage to pull the victims out. The Independent reported that the hole measured ten square metres and was two metres deep.
According to reports four people were taken to hospital with minor injuries.
The cause of the collapse is yet to be established.
SEE ALSO

China Explosion Video: Shocking Footage Of Blast Tearing Through Port City Of Tianjin

Black Monday: Five Things You Need To Know About China's Stock Market Crash