WH Smith and Marks & Spencer have been accused of taking advantage of sick patients and their loved ones by charging more for cards and flowers in hospital shops than on the high street.
An investigation in The Times (£) found that some shops in hospitals charge double the high street price for "get well soon" greeting cards, and add £7 to bunches of flowers.
Bristol Royal Infirmary's WH Smith shop had a 90% mark-up on cards on Sunday, and a 750ml bottle of Evian water was found to cost £1.69 at St Thomas' hospital and Homerton hospital in London, but only 99p at high street stores in the capital.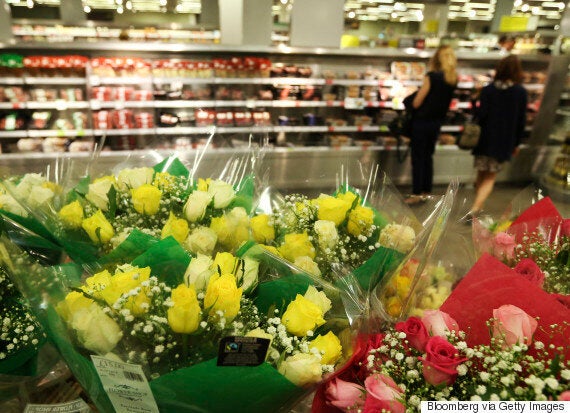 Flowers in M&S in Falkirk hospital cost £17 compared with £10 in high street branches
The Times compared prices at ten hospitals in eight cities around the UK with nearby high street shops and found that snacks, sandwiches, bottled water and stationery cost more in hospitals.
An M&S free-range egg and cress sandwich was 42% more expensive at the Royal Free hospital in London's Hampstead, than on the high street next to it
A large bag of Minstrels in Morriston hospital in Swansea was on sale for £2.99 but cost just £2 on the high street
Both retailers said that the prices reflected higher running costs for hospital shops, with an M&S representative saying items could be "a little higher" but that "customers tell us they appreciate our hospital stores".
Katherine Murphy, the Chief Executive of the Patients Association said she was "shocked" by the prices, adding they were "just morally wrong."
"They are targeting the wrong people: poorly paid staff and patients. It is wrong to take advantage of a captive audience," the head of the charity told The BBC.
She said: "It's absolutely wrong. It feels like exploitation of a captive audience. Patients may be on a drip, or in their pyjamas — they may not have the choice to go anywhere else.
"We've already seen patients being charged to watch TV from their beds, and this just feels like another example of the creeping commercialisation within hospitals. Where does it end?"
The MP dismissed what she called M&S and WH Smith's "laughable" explanations of high operations costs, saying: "They don't wash with me at all. Some of these chains have outlets on some very elite streets. Surely rentals [in hospitals] cannot exceed Oxford Street? And the argument that delivery costs are somehow higher to hospitals than anywhere else is just laughable."
When a commenter on Twitter suggested that people could just use other shops if they didn't agree with hospital prices, she replied: "Often not an option, particularly if you're a patient or visiting someone in an emergency".
Tracey Follows, a marketing consultant and founder of AnyDayNow, told The Huffington Post UK hospital shop prices were "not right" and described her experience when her father suffered an auto immune disease.
"I have nothing but complimentary things to say about our NHS, " she said. "My dad was taken into hospital with a seemingly undiagnosable problem.
"Whilst in intensive care he was quite distressed as he couldn't swallow let alone speak so my brother and I stayed with him all day and night - so there was always someone with him at all times.
"But of course it means that you are very dependent on the shops and facilities in the hospital.
"And when you are shocked, worried and anxious about your relative, and just want to do what you can for them, you'll buy things they need without giving a thought to the price," she told HuffPost UK.
"You also need things for yourself which you hadn't necessary expected or planned. You are a captive audience for the shops and have little option than to shop in the stores within the hospital."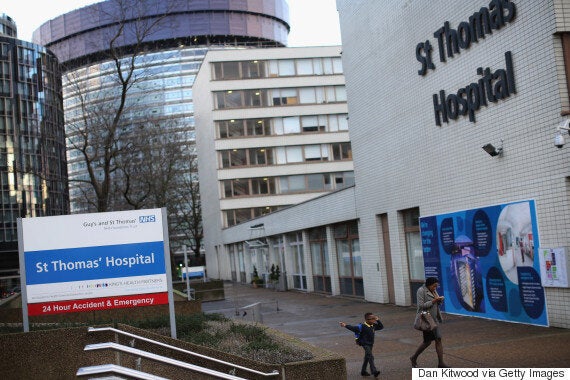 WH Smith in St Thomas' hospital in London sold a 750ml Evian water for £1.69 when it was available for 99p on the high street
"For those visiting every day or staying overnight, the parking charges can really add up," Follows added. "I wouldn't have minded as much if the shops were open all hours but they don't they stay open 24 hours. They shut at say 8pm or so, and anything you need during the night you will have had to buy beforehand. So it's not like they are subsidising a round-the-clock service.
"I wouldn't mind paying a slightly higher price if the difference was going back into the NHS but if it's going to the M&S or WHSmith profit line. That is not right. Appreciate they can't make a loss, but they should look at it as a branding exercise rather than a store by store revenue opportunity.
"When you are in hospital, are upset or anxious, and a brand can help you out in a small way just by being on your side at a time when you most need (rather than exploiting that circumstance), then you will look on that brand favourably in the future when everyday life outside the hospital resumes again."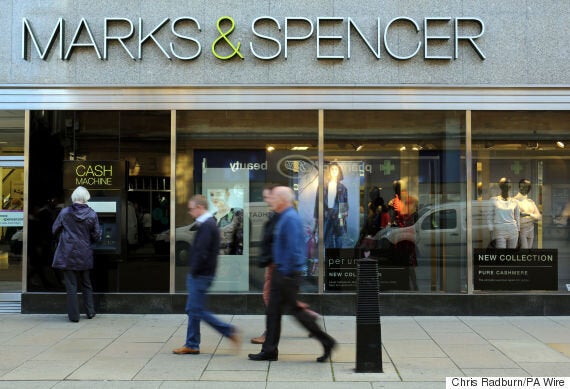 M&S said its customers appreciated shops in travel locations and hospitals
Chain shops in airports and service stations also sometimes charge more than high street branches.
A WH Smith spokesman said that some discounts were only possible in the wider selections of the high street stores, saying: "WH Smith is committed to providing value and offers in all our stores throughout the year.
"Comparing individual selected prices at a point in time does not provide a fair reflection of our pricing and promotions in hospital stores and it is not correct to say WH Smith has overly inflated pricing and promotions in hospitals versus the high street business.
He added that over that last 12 months, the average price of a 75cl Evian bottle of water had been £1.18 in hospitals but £1.25 on the high street.
A Marks & Spencer spoksperson: "Customers tell us they appreciate our stores in travel locations and hospitals and we work hard to keep prices competitive. However, in line with other retailers, prices can be a little higher in these locations due to increased running costs, such as longer opening hours."
People were also unimpressed with the news and vented their frustration on Twitter:
M&S + WH Smith blame high rents for ripping off patients at hospital stores. Do they cut prices at low rent shops? Thought not

— Kevin Maguire (@Kevin_Maguire) August 26, 2015