Communities touched by the Shoreham air crash will fall silent today exactly one week on from the disaster which claimed at least 11 lives.
A minute's silence at 1.20pm will mark the precise time last Saturday when a vintage Hawker Hunter jet crashed onto the busy A27 during the Shoreham Airshow in West Sussex.
Among those who will be remembering the victims and their families will be local residents who will gather at a wooden tollbridge near the crash site.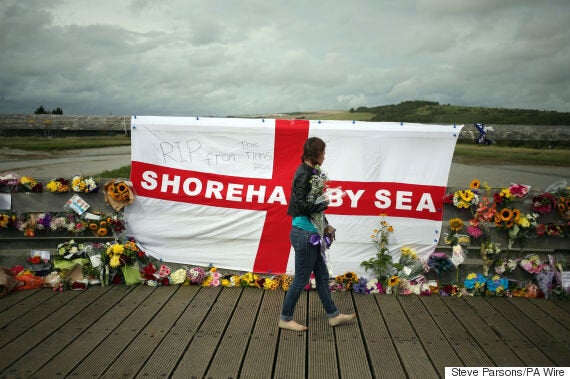 Floral tributes left on the Old Tollbridge near the A27 at Shoreham in West Sussex
Hundreds of floral tributes have been laid at the bridge, which has become a focal point for the community to remember those who lost their lives.
Tonight a candlelit vigil will be held at the Adur Ferry Bridge as part of Shoreham's annual River Fest event this Bank Holiday weekend.
And a minute's silence will also be observed at the Remembrance in the Park event in Lancing Manor later, West Sussex County Council said.
Adur District Council leader Neil Parkin said: "These community events demonstrate the strength of the feelings shared by everyone who has been touched by this tragedy.
"The experience of sharing a minute of silence is so powerful and will be a fitting moment of reflection one week on."
Worthing Borough Council leader Daniel Humphreys said: "At times such as these, opportunities to come together are more important than ever."
Tony Brightwell, 53, from Hove, a health care manager for Sussex Partnership NHS Foundation Trust and Brighton and Hove City Council, is the latest victim to be named.
Grandfather Mark Reeves, 53, who died after parking his motorbike on the outskirts of Shoreham Airshow to take photographs of the planes, is also among the dead.
Four other victims include Worthing United footballers and best friends Matthew Grimstone and Jacob Schilt, both 23, who were on their way to play in a match when they were killed.
Personal trainer Matt Jones, 24, also died, along with wedding chauffeur Maurice Abrahams, 76, a former soldier who had served in the Parachute Regiment. Motorcyclist Mark Trussler is missing and also feared dead.
The sister of Daniele Polito, a father from Worthing, wrote on her Facebook page of her "last few painful days" and her loss for her brother. Police have yet to officially confirm his death.
Meanwhile, police have released images from the crash site, showing the debris-strewn aftermath of the crash on the A27 and forensic investigators gathering clues.
The jet crashed with such force that specialists - including forensic archaeologists, anthropologists, odontologists and pathologists - are having to examine DNA, teeth and human remains to discover who was killed.
The disaster rocked the community, which has rallied by donating more than £15,000 to an online appeal, while a local nursery offered free childcare to victims' families and survivors.
The A27 has been closed since the crash, and Sussex Police said it is due to reopen on Bank Holiday Monday.
The plane wreckage has been sent to Farnborough, Hampshire, where Air Accidents Investigation Branch (AAIB) investigators will seek to find out what caused the crash. An interim report is due in the next few days.
The jet's pilot, Andrew Hill, was left fighting for his life after the crash, and has now been moved to a specialist hospital for treatment.
Popular in the Community