The scenes were heartbreaking, but they also served to highlight the lack of knowledge we have about stillbirth as a society.
Understanding about stillbirth means we are better equipped to help friends who have been though stillbirth, and it can also ease concern for anyone who is pregnant or trying for a baby.
So here is everything you need to know: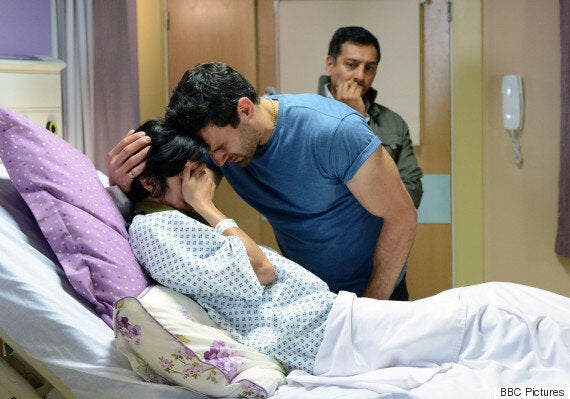 The cause of around 30% of stillbirths is unknown, but there are also a number of reasons for why you might experience one.
"The most common thought is that there's a problem with the placenta - the organ that supplies the baby's nutrients and oxygen during pregnancy," says Dr Edward Prosser-Snelling, a spokesperson from the Royal College of Obstetricians and Gynaecologists.
The placenta may be the direct cause of stillbirth, or an issue with it may mean the baby did not receive everything it needed in order to grow fully.
"There are also things to do with the mother's condition that can lead to stillbirth", Dr Prosser-Snelling adds.
"Some major health problems that some women develop during pregnancy, such as diabetes or preeclampsia - a condition that causes high blood pressure in the mother - can increase risk."
If a baby experiences an infection or it doesn't form fully due to a genetic or structural condition, this can also have an impact.
Dr Prosser-Snelling adds: "It's also thought that problems during labour and birth can result in stillbirth. Mostly due to something going wrong with the umbilical cord."
How Can You Reduce Your Risk Of Having A Stillbirth?
The three important modifiable risk factors for stillbirth are obesity, smoking and being an older mother.
"If you can stop smoking before you become pregnant, consider having your babies earlier and make sure you're an optimal weight, that can help," Dr Prosser-Snelling says.
However, for the majority of stillbirths the mother's actions will make little to no difference.
How Does Having A Stillbirth Feel?
"The consultant cleared his throat: 'I'm very sorry but there is no heartbeat.' He confirmed my greatest fear, our baby who I had carried for 38 weeks and two days had died," she writes.
"I shouted: 'No! No! No!' over and over. No tears came until my husband came into the room. He sobbed into my chest. We cried together for the child we had lost. At this point my world as I had known it was crumbling but through it all was this wonderful man; my husband. He was holding my hand. It was an amazing moment of clarity. I realised that I was so very, very lucky to have him."
Of course, every individual or couple who experience stillbirth will feel differently. As with any form of bereavement, there is no right or wrong reaction.
How Does Stillbirth Affect Your Chances Of Having A Child In The Future?
Chances of having a healthy child in the future "very much depend on the cause and whether or not there was a modifiable cause", Dr Prosser-Snelling says.
"If it was an unknown cause, that's almost a good thing because you're very likely to go on and have a normal, healthy baby afterwards."
But receiving treatment for any underlying cause will also improve your chances if you wish to have a baby in the future.
"If you're a diabetic, that might mean controlling your blood sugars," Dr Prosser-Snelling says. "If it's another condition then you might need to have an early delivery if you become pregnant again."
How Can You Help A Friend Who's Had A Stillbirth?
Leigh Kendall, who identifies as an "empty-armed mother", regularly blogs about her own experience of stillbirth and how we can help others affected.
"We need to break the taboo - and the only way to break a taboo is by talking about any 'challenging issue' openly. We need bereaved parents to feel able to talk openly about their babies if they so wish.
"We need people to learn how best to talk to bereaved parents about their babies, too. We need to learn the difference between sympathy ("Oh, that's really sad...but at least you had 35 days with Hugo") and empathy ("I'm so sorry, what was your baby's name?")".
Kendall also believes that programmes like Eastenders can help raise awareness about stillbirth.
"TV educates viewers. The education may happen consciously through something intended to be educational such as a documentary, or subconsciously through entertainment programmes such as a soaps. Soaps can be a very helpful means of raising awareness of an issue, and generating discussion," she says.
Stillbirth charity Sands worked closely with the Eastenders scriptwriters and actors to ensure Shabnam and Kush's story was realistic and sensitive.
Hannah Ward, communications manager at Sands, tells us: "Sands supports anyone affected by the death of a baby and works in partnership with health professionals to improve the quality of care and services offered to bereaved families. Sands promotes and funds research and changes in practice that could help to reduce the loss of babies' lives. We are a national organisation, with around 100 regional support groups across the UK.
"The death of a baby has a profound and lasting impact on parents and the wider family. We know this from the many voices we have heard and the thousands of families we have supported over the past decades. We have lots of support available for bereaved parents and their families and friends on our website."
For more information about stillbirth support, visit Sands.